The maximum term: 5 years
Age Limit: 21-65 years
Activation cost: 0.01 EUR
Max. amount: 3000 EUR
The processing time: 30 min.
Percent per month: from 3%
AtraisKredits.lv – Register, submit an application, get a loan!
Line of business Atraiskredits.lv granting loans to individuals. Easy check-in, three steps and you can already fill out an application for a loan. Atraiskredits.lv The money on your account will be transferred for 15-30 minutes after submit the application for a loan. Atraiskredits.lv Provide credit through SMS. Credit can get, being wherever your mobile phone works.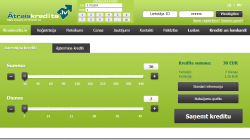 For the conclusion of the credit agreement, you must provide personal information in order to assess the solvency and identification. In the event that personal data will not be provided, Atraiskredits refuses to sign the loan agreement due to lack of opportunity to assess your ability to pay.

Phone: 22848891

Email: info@atraiskredits.lv

Website: www.atraiskredits.lv
What is the status of the borrower?
This borrower that meets the following conditions: Declared permanent residence is the Republic of Latvia and the laws on taxes borrower is a resident; At least 21 (twenty-one) years; No unsecured debts; Working individual; Neat payment history.
How to get a quick loan online?
To get a quick loan online, you need to: Create, connect to the system – enter your user ID and temporary password, choose from basket credit the most suitable option, confirm the selected option terms of the loan.
When do I have to repay the loan?
The amount to be returned (loan amount and interest on the loan) you have to pay until the day of repayment of the loan.
How much can you take the credits, if not returned to the first credit?
If not returned the first loan, following a loan application rejected.
When and in what way do I get a user ID?
Within a few minutes, we will send your user ID SMS-message to your specified mobile number. phone if: you have made the payment for the registration will be credited to our account, you have entered the correct details of the payment, the payment is made from your personal account, you are a permanent resident of the Republic of Latvia.
AtraisKredits

,

:
1929
AllCredits:
ViaCredit , SMScredit , HercusKarte , Finanza , KreditsPlus , SaulesKredits , IespejuKredits , BIGBANK , Bino , SavaCard , FixCredit , SohoCredit , Credit24 , VitaCredit , TFBank , Atrais , CreditON , Kredits365 , Moneza , LatCredit , LadyLoan , LKCentrs , AutoSOScredit , Ferratum , Kredits7 , ViaSMS , NordLizings , Vizia , TavsAizdevums , Creditus ,