BIGBANK

The maximum term: 5 years
Age Limit: 20-73 years
Activation cost: -
Max. amount: 10000 EUR
The processing time: 24 hours
Percent per month: from 40%
BIGBANK.LV specialization – issuing consumer credits.
BIGBANK AS founded in 1992 in Tartu and operating in Estonia, Latvia, Lithuania, Finland, Spain, Sweden, and also has on the market in Germany and Austria, cross-border services, dedicated to the opening of term deposits and granting consumer loans to the bank. The company operates in all markets under a single brand BIGBANK AS. At today BIGBANK AS is one of the largest credit providers in the Baltic countries.
Standard loan: the amount up to 7000 EUR, up to 60 months, the rate from 40%, age 20-73
Credit biggest events: the amount up to 10000 EUR, up to 60 months, the rate from 8.9%, age 21-73
Car Loan: the amount up to 10000 EUR, up to 72 months, the rate from 18%, age 18-73
Credit on mortgage: the amount up to 130000 EUR, up to 15 years, the rate from 12%, age 18-73
Combining loans: the amount up to 7000 EUR, up to 60 months, the rate from 40%, age 20-73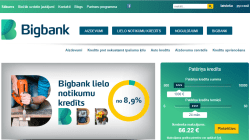 The strategy of BIGBANK is to continue in its field of activity and in accordance with the already adopted principles by concentrating on the existing client segment – always offering its customers the best services to meet their needs at the moment. BIGBANK does not compete with universal banks in the sphere of traditional banking services.

Phone: 67116063

Email: info@bigbank.lv

Website: www.bigbank.lv
Why arrange a loan in BIGBANK?
Take out a loan in BIGBANK is beneficial for several reasons: a convenient solution, an individual approach. Each client has a credit manager, who will offer professional and convenient solution immediately. Instead of the standard solutions, we carefully listen to the client's wishes and try to work out the best solution for a particular situation. Reliability. We appreciate the long-term customer and partner relations.
How much credit can I expect?
Unsecured loan is available at up to 10 000 €, but the proposed amount of the loan will depend on the size of income.
What are the conditions for filing an application for a loan without collateral?
Apply to be at least 20 years of age. Income must be at least € 230 after tax and provided that all other loans are paid.
In some cases, BIGBANK fails in obtaining a loan?
The negative decision on the application for a loan may be made, if the person who filed the application is based and newly registered in the credit register of the Bank of Latvia's arrears, insufficient income or too much credit commitments at the time of filing.
How long will I get an answer to loan application?
The Bank will provide a final answer to your credit application within 24 hours of receipt of all necessary documents (print bank account, property photos and so on.)
BIGBANK

,

:
5293
AllCredits:
HercusKarte , Atrais , CreditON , LadyLoan , IespejuKredits , TFBank , KreditsPlus , Bino , Monify , OneFinance , AutoSOScredit , SavaCard , Kredits365 , LatvijasHipoteka , CreamCredit , ViaCredit , 1Lizings , Creditus , Ondo , Moneza , Altero , CarsOutlet , Credit24 , NordLizings , Mogo , SaulesKredits , SMScredit , LKCentrs , LatCredit , Banknote ,
AllCredits app's:
download for Android
GooglePlay
, download for iOS AppStore (soon).