Bino

Amount: 50౼3000 EUR
Term: 3౼84 months
Interest: up to 60.55 % APR
Age: 20౼75 years
Processing time: 10 min.
Registration: 0.01 EUR
Piemērs: 1000.00 EUR – izsniegtā Kredītlīnijas summa. Kopējā summa, kas jums būs jāmaksā 1027.98 EUR. Procenti: 27.98 EUR. Norādītā summa ir aprēķināta, pieņemot, ka Kredītlīnijas summa tiek izņemta nekavējoties un pilnībā un tiek atmaksāta, ik mēnesi veicot minimālo maksājumu. Aizņēmuma likme 43.8 % gadā. Gada procentu likme (GPL) 60.55 %, Kredītlīnijas summa tiek atmaksāta viena gada laikā divpadsmit vienādos maksājumos.
Bino – Credit line with a minimum payment!
Bino offers fast, convenient and profitable short-term loans. Get a loan from Bino possible within 10 minutes after the examination and confirmation of Your loan application. To obtain it is not necessary collateral, guarantor or certificate of income from employment. Unlike other similar service providers, Bino allows you to defer payment of the loan, making a charge for the extension corresponding to each loan amount.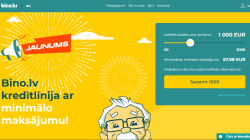 Bino – a company focused on long-term cooperation with every customer. Therefore, employees of the company are always trying to find a mutually beneficial solution to each of the company's customers. Caring for the convenience of customers, technical improvements carried out in the system, research the wishes and needs of clients, as well as increasing opportunities offered.

Phone: 80205030


Email: info@bino.lv


Website: www.bino.lv
Can I have simultaneously some loans?
At the same time you can have only one loan, but Bino.lv offers the opportunity to receive an additional amount to the existing loan. On the possibilities to receive an additional amount you can learn at your profile.
What do I need so I can get a loan?
What would you could get a loan: You must be a permanent resident of Latvia aged from 20 to 75 years old; You should not be late payments or violations of the debt; You need an account with one of the banks in Latvia and an active cell phone number.
What documents are required to obtain a loan?
To obtain a loan you do not need any documents, and only a mobile phone and an account with a bank in Latvia.
Can I borrow if I have already taken loan from a bank or other lending institution?
Yes. You can get a loan if you do not delay payments on the loan and is not included in the list of debtors.
Why I denied in providing the loan?
Unfortunately, we can not give you a loan if: You number in the register of debtors; not paid the previous loan in Bino.lv; during registration shown erroneous data; You are under 20 years of age or older than 75 years.

:
7768
AllCredits:
Sefinance , eLizings , Banknote , KSPlatforma , HipoCredit , Credit24 , Finea , Vizia , AvaFin , Vivus , Creditus , LatKredits , ViaSMS , NordLizings , Ondo , Finlo , Ferratum , LKCentrs , SMScredit , SavaCard , ViaCredit , Altero , SosCredit , Soso ,
Facebook:
our page
www.facebook.com/allcredits.lv/