Finea
top five in rating

Amount: 100౼10000 EUR
Term: 3౼60 months
Interest: 45.24౼54.41 % APR
Age: 20౼75 years
Processing time: 15 min.
Registration: -
Piemērs: Kredīta kopējā summa 2 000,00 EUR. Jāveic šādi maksājumi: 125,99 EUR, 24 maksājumus pēc kārtas, vienu reizi mēnesī. Kopējā summa, kas jums būs jāmaksā 3 023,76 EUR, kas sastāv no: Izsniegtās aizdevuma summas: 2 000,00 EUR; Komisijas maksas par līguma noformēšanu: 0,00 EUR; Procentu maksājumiem par aizdevumu: 1 023,76 EUR. Gada procentu likme (GPL) 52.86 %. Piepildi sapņus un izpildi mērķus ar Finea! Saņem aizdevumu savā kontā dažu minūšu laikā!
Finea – Fulfill your dreams!
Finea is a friendly non-bank lender that offers a loan for both planned and unplanned expenses with favorable repayment terms and up to 5 years. To obtain a loan, no collateral, no guarantee, no certificate of employment is required. It is possible to receive a loan after reviewing and confirming your application for a loan during Finea's business hours. Finea's priority is long-term and mutually beneficial cooperation with each client.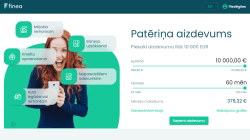 Benefits of using Finea services: Convenient, quick and easy registration, which is available around the clock; Prompt consideration of an application for a loan, as well as its provision; Flexible repayment period up to 5 years; Low commission for using the loan; Professional customer service. You can apply for a Finea loan quickly, conveniently and with the option to choose a repayment period of up to 5 years and an amount from 500 to 10,000 EUR.

Phone: 371 80205114


Email: info@finea.lv


Website: finea.lv
What are the conditions for obtaining a Finea loan?
To qualify for a loan: you must be a permanent resident of Latvia between the ages of 20 and 75; you need an account in one of the banks in Latvia and an active mobile phone number; You must not be in arrears or delinquent; you must be able to repay the loan.
How much money can I borrow?
The available loan amount is determined individually for each Finea client, depending on the client's solvency and credit history. To find out the loan amount available to you, you need to register or enter your profile if you are already registered.
Can I repay the loan earlier?
Yes. The loan can be repaid at any time.
Can I borrow if I already have a loan from a bank or other lending institution?
Yes. You can get a loan if you have not been behind on loan payments and are not included in the list of debtors.
How quickly will I get a loan decision?
You will receive a decision on granting a loan within a few minutes after receiving the loan application.

:
993
AllCredits:
NordLizings , SosCredit , Banknote , LKCentrs , Altero , Ferratum , ViaCredit , Soso , Bino , Ondo , Creditus , LatKredits , Vivus , AvaFin , Credit24 , Finlo , ViaSMS , eLizings , Sefinance , KSPlatforma , Vizia , HipoCredit , SavaCard , SMScredit ,
Facebook:
our page
www.facebook.com/allcredits.lv/