Banknote

Amount: 100౼10000 EUR
Term: 3౼120 months
Interest: 23.88౼44.12 % per year
Age: 18౼80 years
Processing time: 15 min.
Registration: 0.01 EUR
Piemērs: aizņemoties 300 EUR ar aizņēmuma likmi 3.677% mēnesī, aizņēmuma likme gadā ir 44.12%, gada procentu likme ir 54.20% un kopējā atmaksājamā summa ir 376.44 EUR. Šis piemērs ir balstīts uz pieņēmumu, ka aizdevums tiek atmaksāts 12 maksājumos, ievērojot līguma noteikumus. Maksimālā gada procentu likme – 44.12%. Verifikācijas komisija (vienreizēja aizņēmēja identifikācijai portālā) 0.01 EUR.
Banknote – 30 day loans no fees.
Banknote – it is a new type of lender. Banknote loans disbursed in cash, you can get them in 39 cities nationwide. To obtain a loan in Banknote you need to apply for credit and provide information about yourself: name, surname, personal code, cell phone, e-mail, monthly income, monthly expenses.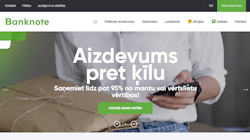 Banknote – the only one in Latvia, a licensed company that provides all the necessary everyday financial services in one place. We are proud of the high level maintenance and services. We are different conditions for honest and sincere intentions. Fast, convenient, safe and close to home.

Phone: 66116688


Email: info@banknote.lv


Website: www.banknote.lv
Why Banknote gives the consumer loan in cash?
Because before granting a loan, we would like to meet with their clients personally. For convenience and reliability of all parties, we conclude an agreement on paper. Because our customers are willing to receive and return the loan in cash. Some customers prefer to receive a loan in cash, and return – transfer.
What do I need to obtain a consumer credit?
You need to be a resident of the Republic of Latvia aged 18 to 80 years. To get the loan you need an identity document: passport, ID-card or driver's license issued by the Directorate of Road Safety (CSDD).
Where can I get approved consumer loans?
When the acknowledgment is received, go to the nearest branch of the Banknote and get a loan in cash.
How can I extend the repayment period consumer loan?
Consumer loans for up to one month may be extended for 7 days, 14 days or 30 days. If a consumer loan granted for a period of 3 months or more, you can defer the monthly payment by paying fees that are equivalent interest payments for a particular month.
Do I need a bail or a guarantor to obtain consumer credit?
For consumer loan no need for collateral or guarantor.

:
5404
AllCredits:
NordLizings , eLizings , HipoCredit , Creditus , SMScredit , Credit24 , Sefinance , SosCredit , LatKredits , Ferratum , SavaCard , Ondo , Vizia , KSPlatforma , AvaFin , Bino , Soso , ViaSMS , LKCentrs , ViaCredit , Finea , Vivus , Altero , Finlo ,
Facebook:
our page
www.facebook.com/allcredits.lv/