KSPlatforma

Amount: 100౼30000 EUR
Term: 3౼120 months
Interest: from 4 % per year
Age: 20౼75 years
Processing time: 15 min.
Registration: -
Piemērs: Aizdevuma summa ir 5000 EUR, kredīta termiņš 36 mēneši, aizņēmuma likme ir 5.8% no neatmaksātās aizdevuma summas un kopējā summa – 5459.65 EUR, kamēr GPL ir 10.07%. Līguma bezmaksas piegāde ar kurjeru. Nav nepieciešama ķīla. Izdevīgas procentu likmes. Pieejams strādājošiem ārvalstīs. KSPLATFORMA piedāvā ātru un kvalificētu jūsu kredītpiedāvājuma izskatīšanu vienlaicīgi pie visiem vadošajiem Latvijas kreditoriem.
KSPlatforma – Loan Comparison Platform.
KSPlatforma is one of the largest platforms for comparing and selecting favorable conditions for lending. KSPlatforma offers a fast and qualified review of your loan application at the same time with all the leading lenders of Latvia. Advantages of KSPlatforma: All loans and leasing in one place, Registration without visiting the office, Unified form of a loan application, Best conditions and% rates, Free review, Guaranteed safety of personal data.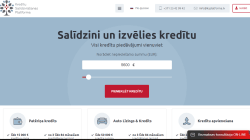 To start considering a loan application, your official income must be at least 280 euros per month. The available loan amount and other conditions are determined individually, according to your credit history. After reviewing your application, a loan officer will contact you.

Phone: 25429942


Email: info@ksplatforma.lv


Website: ksplatforma.lv
What are your interest rates, loan terms, monthly payments?
The loan conditions are set individually depending on your credit history and the credit policy of the lenders themselves. We offer to compare and choose the best loan for you from the leading lenders of Latvia.
Is it possible to sign a loan agreement remotely or with a courier?
As a rule, a contract is signed at the offices of lenders, but if necessary, you can order free delivery of a loan agreement with a courier. The time and place of delivery are agreed in advance.
Is it possible to consider a loan application without a bank statement?
Yes, this is possible, but in this case, you may not receive a loan offer from all lenders. And the proposals received without an account statement may be with higher interest on the loan. We recommend sending an application for a loan with a bank statement.
Is it possible to repay a loan faster than the due date?
This is possible and does not include any fines or commissions.

:
1663
AllCredits:
Vizia , Finea , NordLizings , LKCentrs , SosCredit , Ondo , Ferratum , SMScredit , eLizings , ViaCredit , LatKredits , Finlo , SavaCard , Sefinance , Creditus , HipoCredit , Credit24 , Banknote , Altero , Soso , Bino , AvaFin , Vivus , ViaSMS ,
Facebook:
our page
www.facebook.com/allcredits.lv/