Ondo

Amount: 50౼5000 EUR
Term: 1౼36 months
Interest: 45.10౼53.76 % APR
Age: 18౼80 years
Processing time: 10 min.
Registration: 0.01 EUR
Piemērs: aizņemoties 300 EUR uz 12 mēnešiem un veicot apmaksu 12 vienādos mēneša maksājumos ar/bez 100% atlaides pirmajām 30 dienām. Aizņēmuma likme gadā 37.79%/43.80%, gada procentu likme 45.10%/53.76%, kopējā atmaksājamā summa 364.89 EUR/375.84 EUR, ja tiek ievēroti līguma noteikumi! 100% atlaide procentu maksai tiek piemērota pirmajām 30 dienām kopš kredīta saņemšanas. Apmaksā kredītu pa daļām vai pilnā apmērā.
Ondo – 10 Minutes and money in your account!
Ondo – very friendly non-bank lenders that will help you take out a loan to cover unexpected expenses. Ondo offers fast, convenient and profitable short-term loans. Get a loan from Ondo you can for 10 minutes, after consideration and confirmation of your application for a loan. To obtain it does not need a bail bondsman or a certificate of income from employment.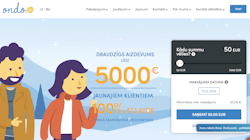 Ondo – is a company focused on long-term cooperation with every customer. Therefore, employees of the company are always trying to find a mutually beneficial solution to each of the company's customers. Caring for the convenience of customers, to make technical improvements to the system, research the wishes and needs of customers as well as expanding opportunities offered.

Phone: 80909999


Email: info@ondo.lv


Website: www.ondo.lv
What do I need so I can get a loan from Ondo?
So that you could get a loan: You must be a permanent resident of Latvia aged 20 to 75 years old; You should not be late payments or violations of the debt; You need an account with a bank in Latvia and the active involvement of the mobile phone.
What documents are required to obtain a loan in Ondo?
To obtain a loan you do not need any documents, but only a mobile phone and an account with a bank in Latvia.
What amount of money I can borrow?
Initially, you can take 300 EUR. If you just bring back us credit and do not violate the conditions of the treaty, since You are the second time can take up to 425 EUR. Bear in mind that customers between the ages of 20-21 years for the first time can take up to 100 EUR, the second time to 200 EUR and third time 300 EUR. Once the client reaches the age of 22 and fulfill the terms of the agreement, the credit limit will increase to 425 EUR.
How quickly the loan amount will be credited to my bank account?
If You account with one of the following banks: Swedbank, Citadele, Nordea, DNB banka and Norvik banka, then you will receive the money within 10 minutes (98% of cases) after the review and confirmation of Your application for a loan, while the Ondo . If your account at another bank, the transfer may take longer – up to three days from the date of the application. In the event of the bank's system of technical problems getting money may take longer.
Why I refused to provide the loan?
Unfortunately, we can not give you a loan if: You have a number in the register of debtors; not repaid previous loans in Ondo; during registration given erroneous data; You are the younger than 20 or older than 75 years.

:
7894
AllCredits:
Vivus , ViaCredit , Altero , KSPlatforma , Creditus , LKCentrs , Banknote , SavaCard , AvaFin , Sefinance , Soso , Ferratum , HipoCredit , Finlo , Credit24 , Vizia , SosCredit , NordLizings , ViaSMS , SMScredit , LatKredits , Bino , eLizings , Finea ,
Facebook:
our page
www.facebook.com/allcredits.lv/