Soso

Amount: 50౼7000 EUR
Term: 3౼12 months
Interest: from 28.74 % APR
Age: 18౼75 years
Processing time: 15 min.
Registration: 0.01 EUR
Piemērs: Kredīts 500 € uz 12 mēnešiem, mēneša maksājums 47.67 €, kopējā summa 572.04 €, gada procentu likme APR 28.74%. Aizdevuma termiņš ir no 91 dienas līdz 1 gadam. Lēmumu var saņemt vidēji 15 minūšu laikā pēc pieteikuma veidlapas aizpildīšanas. Aizdevuma summa tiks nosūtīta pāris minūšu laikā pēc kredīta pieteikuma apstiprināšanas.
Soso – Loans on favorable terms!
The loan is granted to persons who have reached the age of majority. Citizens and residents of the Republic of Latvia can receive a loan. After registration, choose the most suitable offer and fill out the application form. A decision can be received on average within 15 minutes after filling out the application form. The loan amount will be sent within a few minutes after the application is approved.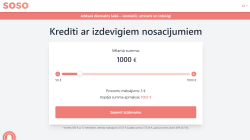 Soso is not a financial institution, bank or lender and is not responsible for the lenders' agreements or their terms. Soso is an independent intermediary offering an online loan information platform that introduces consumers to the special terms of the credit agreement and other relevant information at no charge. All proposed lenders have the appropriate license of the lending institution.

Phone: -


Email: info@soso.lv


Website: soso.lv
Do I need a collateral or guarantor?
No collateral or guarantor is required to obtain a loan.
Do I need official income to get a loan?
To get a loan online, you need an official and regular income, otherwise you won't be able to get a loan.
Can I cancel a loan?
The borrower has the opportunity to refuse the loan within 14 days from the date of conclusion of the agreement.
Is the loan application approved or not?
If the loan is fully approved, status information will be sent via text message and/or email. If a loan is approved for a smaller amount, you will be contacted by an account manager.
Why was my loan application rejected?
An application may be rejected if the information provided on the application is incomplete or incorrect, or if you are in arrears.

:
399
AllCredits:
SMScredit , Creditus , LKCentrs , eLizings , Altero , HipoCredit , AvaFin , Finlo , ViaSMS , KSPlatforma , LatKredits , Banknote , Bino , Ferratum , SavaCard , Vizia , NordLizings , Finea , Sefinance , SosCredit , ViaCredit , Credit24 , Vivus , Ondo ,
Facebook:
our page
www.facebook.com/allcredits.lv/