Vizia

Amount: 100౼10000 EUR
Term: 6౼60 months
Interest: 23.88౼44.12 % per year
Age: 18౼80 years
Processing time: 15 min.
Registration: 0.01 EUR
Piemērs: aizņemoties 300 EUR ar aizņēmuma likmi 3.677% mēnesī, aizņēmuma likme gadā ir 44.12%, gada procentu likme ir 54.20% un kopējā atmaksājamā summa ir 376.44 EUR. Šis piemērs ir balstīts uz pieņēmumu, ka aizdevums tiek atmaksāts 12 maksājumos, ievērojot līguma noteikumus. Maksimālā gada procentu likme – 44.12%. Verifikācijas komisija (vienreizēja aizņēmēja identifikācijai portālā) 0.01 EUR.
Vizia – You can give as much as you've taken!
Fill out an online application for Vizia and verify your profile using Instator, or transferring EUR 0,01. We each client Vizia individually set a credit limit. To find out your credit limit, fill out an application for a loan at Vizia. For the first time you can borrow up to 2000 EUR. The loan will be transferred to your bank account.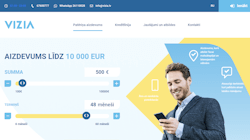 VIZIA cooperates with 5 banks – Swedbank, SEB banka, Citadele banku, Luminor and Norvik. If you have an account with one of these banks, the payment will be executed within 15 minutes. The payment to another bank in Latvia will be executed within 3-4 hours if the transfer is made before 16:00 of the working day. The payment to the account of Latvijas Pasts will be executed within 1-3 working days.

Phone: 67600777


Email: info@vizia.lv


Website: www.vizia.lv
Can I return exactly as much as I took?
Yes. In VIZIA, you always return as much as you took if you repay the loan before the first payment date.
What is necessary to obtain a VIZIA loan?
You need to be a resident of the Republic of Latvia at the age of 18 to 80 years, have an account in any Latvian bank and an active mobile phone number.
I already have one VIZIA loan. Can I borrow another one?
If you already have a VIZIA loan, then you can increase the amount of the existing loan within your credit limit.
What is the credit limit?
The credit limit is the maximum amount that you can borrow. You can apply for an increase in your credit limit.
Why do not I get a loan from VIZIA?
Most often, the reason for refusing a loan is a negative answer from the debtor's register about your credit history.

:
3848
AllCredits:
Bino , ViaCredit , NordLizings , Soso , eLizings , Altero , Banknote , Finlo , ViaSMS , LatKredits , Creditus , Sefinance , SavaCard , Credit24 , Finea , Vivus , Ondo , HipoCredit , SosCredit , AvaFin , KSPlatforma , SMScredit , Ferratum , LKCentrs ,
Facebook:
our page
www.facebook.com/allcredits.lv/