Vivus

Amount: 50౼10000 EUR
Term: 3౼60 months
Interest: from 37.3 % APR
Age: 18౼75 years
Processing time: 10 min.
Registration: 0.01 EUR
Piemērs: Aizņemoties 300 € uz 3 mēnešiem, procentu maksājums 18.90 €, aizņēmuma likme 37.42%, GPL 44.55%, kopējā atmaksājamā summa 318.90 €, ja tiek ievēroti līguma noteikumi. Reģistrācijas maksa (tikai 1.izsniegtajai kredītlīnijas summai) EUR 0.01. Aizdevums no 50€ līdz 10000€. Ikmēneša aizdevuma likme no 0.75%. Zemas procentu likmes. Skaidri aizdevuma nosacījumi. Bezmaksas aizdevuma izskatīšana.
Vivus – only 15 minutes and the money in your account!
Vivus offers loans to 10000 EUR for a period of 1 to 60 months, which can be make quickly and get the money within 15 minutes. Vivus clients have access to ample opportunities repayment: you can pay and the internet, and at any bank, and in many trading locations in Latvia. Borrow from Vivus profitable, fast and safe.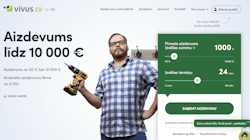 Vivus offers its customers the best loan terms: Free of loan request and issuance of the loan; Personalized service to each client; Privacy and confidentiality of personal data; Extensive acquisition and repayment of the loan; Special offers, promotions and discounts.

Phone: 67439777


Email: info@vivus.lv


Website: www.vivus.lv
What do you need me to get a loan?
To get the loan you must be a permanent resident of the Republic of Latvia at the age of 20-75 years with no past due or impaired loan payments arrears. To receive a loan, you'll need a mobile phone and e-mail.
How fast can I get a loan?
If You account with one of the following banks: Swedbank, Citadele, Nordea, DnB banka or Norvik banka, then you will receive the money within 10 minutes (98% of cases) after the review and confirmation of Your application for a loan, while the Vivus . If your account at another bank, the transfer may take longer – up to three days from the date of the application. In the event of the bank's system of technical problems getting money may take longer.
What will it take to get a loan?
To get a loan, you need to register and to request a loan.
Do I need a Information about the salary or other documents to get a loan?
Documents, for example, the information on the salary needed depending on the amount and term of the loan.
Why refused to register?
The registration is denied if you do not meet the conditions of Vivus. To register, you must be a permanent resident of the Republic of Latvia aged 18 to 75 years. Almost always the reason for the loan is not a negative response from the register of debtors of Your credit history.

:
12303
AllCredits:
Soso , KSPlatforma , Credit24 , ViaCredit , SMScredit , LatKredits , ViaSMS , Finea , NordLizings , Altero , Creditus , Sefinance , Banknote , Bino , LKCentrs , Ondo , eLizings , HipoCredit , AvaFin , Finlo , Vizia , Ferratum , SavaCard , SosCredit ,
Facebook:
our page
www.facebook.com/allcredits.lv/