Sefinance
FREE CREDITS | FAST CREDITS | CREDITS FROM 18 YEARS | AUTO CREDITS | MORTGAGE CREDITS | CONSUMER | SHORT-TERM | LONG-TERM

The maximum term: 30 years
Age Limit: 19-75 years
Activation cost: -
Amount: 500 – 200000 EUR
The processing time: from 1 min.
Percent per year: from 2%
Sefinance – Lending Center.
Sefinance – a company that brings together financial experts with a decade of experience! Sefinance first in Latvia began to offer the service in 2010, combining loans and received customer approval, carried out a number of improvements and expanded the list of services, allowing residents of Latvia do not pay for their credit obligations. Sefinance – five years more than 2,000 satisfied customers!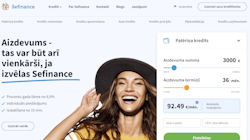 Our main advantage – it is our experience, and the fact that on our home page, the client, without leaving home, can get the best deal. The offer of consumer credit and auto leasing you will get at least 15 minutes, the supply of mortgage lending – in a couple of hours.

Phone: 67332317


Email: info@sefinance.lv


Website: sefinance
About Sefinance
The average duration of Sefinance Credit corporate teams working in the banking sector is 14.5 years. Average age – 41.5 years. Our team consists of colleagues who held positions in banks – Head of Corporate Lending Department, Head of Credit Risk, Senior Analyst, Sales Manager. It is important to add that we know what a credit committee in the client credit assessment, because we ourselves are members of the credit committee and assessed credit clients projects. This distinguishes us from the other, as in the daily work, we are confident in what to do and how to do it better.
Statement
Fill out an application online or in our office in Riga, on the street. Kr.Valdemara, 57/59. Loan Specialist will contact You in few minutes.
Offer
Credit Specialist will tell you about the best deals in your situation. Having come to an agreement, you make an appointment to sign the loan agreement.
Sign the contract
Credit Specialist will speak about the conditions of the loan agreement, after which you will receive and will sign the contract.
Get the money to the account
After signing the contract get money into your account.

:
5719