Altero

Amount: 50౼200000 EUR
Term: 3౼240 months
Interest: from 3 % per year
Age: from 18 years
Processing time: 1 hour
Registration: -
Piemērs: aizdevuma summa ir 5000 EUR, kredīta termiņš 36 mēneši, aizņēmuma likme ir 5.8% no neatmaksātās aizdevuma summas un kopējā summa – 5459.65 EUR, kamēr GPL ir 10.07%. Precīzu pieejamo aizdevuma summu un ikmēneša maksājumu uzzināsi pēc pieteikuma izskatīšanas! Aizdevuma summai 5000 EUR iespējamā aizdevuma likme ir no 5,8% līdz 33,0% izvēloties patēriņa kredītu. Piedāvājumu izskatīšana un salīdzināšana par brīvu.
Altero – Credit Comparison Platform!
Altero is a loan comparison platform where, by filling out one application, you can get free offers on consumer loans, car loans and leasing, loan consolidations and opportunities for refinancing. These offers come from Altero partners – banks and lenders. And Altero will help you save valuable time and, possibly, even a few thousand euros.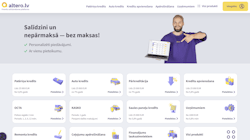 As soon as you fill out an application to get a loan, a virtual profile will be created for you in which you can see the received loan offers. In the profile, you can compare the offers of different lenders and choose the best one based on the available amount, monthly payment, interest rate, speed or convenience of obtaining a loan and other advantages.

Phone: 26583144


Email: info@altero.lv


Website: www.altero.lv
What are the requirements for applying for a loan?
The loan is available from the age of 18, and you should also have a regular income of more than 200 euros per month after taxes.
How soon will the money come into my account?
It depends on which bank you wish to receive a loan. For example, if you are a client of Swedbank or SEB Banka, then you will receive money to your account within 15 minutes after signing the contract. If you are a customer of another bank, on the same day or the next day.
When can I get a refusal?
The most common reasons for denial of credit are a negative response from the register of debtors on the borrower's credit history or insufficient income to cover all existing obligations.
Can I combine several quick credits into one?
Yes, you have the opportunity to combine several loans and pay one monthly payment from one lender. Among Altero.lv partners, there are also lenders from the non-banking sector, offering the opportunity to combine loans, but each of them has its own policy, which means its own conditions regarding how many loans they are willing to combine and what the loan terms will be (interest rates, loan period) . If you have several such quick loans, feel free to fill out an application for credit consolidation, as this is an opportunity to reduce the monthly payment.
Can I get a loan with a damaged credit history?
Altero.lv cooperates with various lenders. Each of them has its own credit policy. By filling out an application at Altero.lv, you will have the opportunity to find out what are your chances of getting a loan at the moment, taking into account the situation with your credit history. Filling out an application does not impose any obligations on you, and this service is provided free of charge.

:
3303
AllCredits:
Finlo , Vizia , Ondo , Sefinance , Creditus , eLizings , Soso , Banknote , LKCentrs , SMScredit , ViaSMS , SosCredit , AvaFin , HipoCredit , Credit24 , KSPlatforma , SavaCard , ViaCredit , Finea , Ferratum , Vivus , NordLizings , LatKredits , Bino ,
Facebook:
our page
www.facebook.com/allcredits.lv/