LKCentrs

Amount: 100౼200000 EUR
Term: 6౼360 months
Interest: 2.90౼40 % per year
Age: 20౼75 years
Processing time: 15 min.
Registration: -
Piemērs: Aizdevuma summa ir 5000 EUR, kredīta termiņš 36 mēneši, aizņēmuma likme ir 5.8% no neatmaksātās aizdevuma summas un kopējā summa – 5459.65 EUR, kamēr GPL ir 10.07%. Precīzu pieejamo aizdevuma summu un ikmēneša maksājumu uzzināsi pēc pieteikuma izskatīšanas. Līguma bezmaksas piegāde ar kurjeru. Nav nepieciešama ķīla. Izdevīgas procentu likmes. Kredīts bez ķīlas no 1000 līdz 25 000 eiro.
LKCentrs – it is Lending Center for Everyone.
LKCentrs an experienced professional in the lending market. For our clients we offer a full range of loans – from the consumer to the credit for the purchase of real estate. LKCentrs a team of professionals in the lending market, aimed at solving your problems. LKCentrs – we make high demands on service standards, so that our customers receive the fastest and intuitive service at the most favorable terms.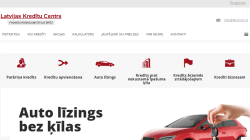 We establish an open relationship with our customers and focus on long-term cooperation. Developed in Latvijas Kredītu Centrs system design and selection of loan is suitable for each client. With us you will be able to receive a loan under a variety of purposes and to do so on the most favorable terms. Together we will make your life better quality!

Phone: 80707070


Email: info@lkcentrs.lv


Website: www.lkcentrs.lv
During which time there is the consideration of the application for a loan or lease?
If all necessary data examination takes 15 to 30 minutes.
Is it possible to remotely sign a loan agreement?
Remotely You can fill out an application for a loan. The signing of the contract without the personal presence of the borrower is not possible.
How is the signing of the loan agreement?
the loan agreement signed in the office. In itself the borrower must have a valid passport or ID card.
What is the maximum loan term?
Term of the loan depends on the loan product you have chosen (from 3 months to 30 years).
Is it possible to early repayment of the loan (loan, lease)?
Yes, perhaps without any additional commission fees and penalty interest.

:
6742
AllCredits:
Vizia , NordLizings , Finea , Ondo , eLizings , SosCredit , Vivus , ViaCredit , LatKredits , Altero , HipoCredit , Soso , Creditus , SMScredit , Banknote , Credit24 , ViaSMS , SavaCard , Bino , Finlo , AvaFin , Sefinance , KSPlatforma , Ferratum ,
Facebook:
our page
www.facebook.com/allcredits.lv/