AvaFin

Amount: 100౼10000 EUR
Term: 3౼60 months
Interest: 7.99౼52.94 % APR
Age: 20౼70 years
Processing time: 10 min.
Registration: 0.01 EUR
Piemērs: aizdevuma summa – 500 €, termiņš 12 mēneši, patēriņa kredīta komisijas maksa – 64.29 €, mēneša maksājums 47.04€. Kopējā atmaksājamā summa – 564.29€ un GPL – 25.59%, ņemot vērā, ka patēriņa kredīts tiek atmaksāts laikus. Aprēķins ir ilustratīvs, balstīts uz iespējamo zemāko aizdevuma likmi, 1.92% mēnesī. Patēriņa kredīts ir pieejams no 3 līdz 60 mēnešiem ar aizdevumu summu no 100 € līdz 10 000 € un procentu likmi gadā (GPL) – no 7.99% līdz 52.94%.
AvaFin – Consumer Loan up to 10000 EUR!
Sign up for AvaFin and log in with your Internet bank and receive an individual offer. Do not hurry! If you need time to think carefully, the AvaFin offer will last for 48 hours. In the case of a positive AvaFin solution, sign the contract in your client profile. Cash will be deposited into your account immediately.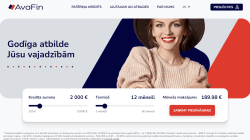 We help you keep your financial situation under strict control. We want, that our offers individually answered your needs and financial opportunities. We care that our proposal meets your expectations, and the return was not a problem.

Phone: 27231100


Email: info@avafin.lv


Website: avafin.lv
How do I apply for the first loan?
It's easy and convenient! Specify the desired loan size and monthly payment. The amount of the loan and the number of payments is entirely up to you. Then fill out the registration form with the required data for the application. The registration form is very short – we only need basic information about you. Then confirm the registration with the help of the verification system Instantor. The whole process will take five minutes. After that we will prepare an individual offer for you in 2 minutes! Remember that after registration, your customer profile will be created.
What are the conditions for obtaining a loan from AvaFin?
You must be a resident of Latvia. Your age should be from 20 to 70 years. Your permanent residence must be in Latvia. You must have an active account in one of the commercial banks of Latvia. You must have an active mobile phone connection to any of the Latvian networks.
Can I get a consumer loan if the recipient does not have an official income?
Without official income, it is impossible to obtain a consumer loan.
How much and how long can I apply for a loan?
You can apply for a loan up to 10 000 EUR with a repayment period of 6 to 60 months.
When will I receive the money after confirming the loan?
You will receive the money in your bank account within 15 minutes after receiving confirmation, if:
- You agreed to the offer during the work of the customer service department;
- Your bank account is opened in one of these banks:
- Citadele
- Swedbank
- Norvik
- Nordea

:
4313
AllCredits:
eLizings , Vizia , Banknote , KSPlatforma , Altero , LatKredits , HipoCredit , Bino , LKCentrs , Ferratum , Soso , Vivus , Credit24 , Sefinance , SosCredit , Creditus , SavaCard , SMScredit , ViaCredit , Finlo , NordLizings , Finea , ViaSMS , Ondo ,
Facebook:
our page
www.facebook.com/allcredits.lv/