CarsOutlet
FREE CREDITS | FAST CREDITS | CREDITS FROM 18 YEARS | AUTO CREDITS | MORTGAGE CREDITS | CONSUMER | SHORT-TERM | LONG-TERM

The maximum term: 7 years
Age Limit: 18-65 years
Activation cost: -
Max. amount: 25000 EUR
The processing time: 1 hour
Percent per year: from 5%
CarsOutlet.LV – 0% First Contribution!
CarsOutlet offers its customers to purchase cars: At low prices; Machines with proven clean history; Responsibility for the sold car; The cost of the machine is not overestimated by carrying out unnecessary repairs. CarsOutlet guarantees inspection of all vehicles that are on sale. Favorable conditions for CarsOutlet leasing.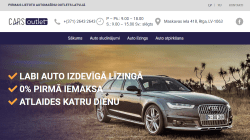 The first outlet of used cars in Latvia. Quality cars from Germany, France and other European countries. In this project, the best experts in auto sales are gathered, they will select the best and cheap car for their clients.

Phone: 26432643


Email: info@carsoutlet.lv


Website: carsoutlet
WHY CHOOSE US?
- LEASING WITH 0% FIRST CONTRIBUTION
- FREE REVIEW OF APPLICATIONS
- THE LEAST 0% BET
- GET AN ANSWER WITHIN AN HOUR
- FACILITATED CHECK OF CREDIT HISTORY AND INCOME LEVEL

:
2717
AllCredits:
Monify , AutoSOScredit , IespejuKredits , 1Lizings , Creditea , AtraHipoteka , Moneza , FinLat , HercusKarte , Mogo , SohoCredit , Kimbi , KreditsPlus , SaulesKredits , CreditON , Atrais , VitaCredit , Kredits7 , Kredits365 , OneFinance , Lande , FixCredit , LadyLoan , TFBank , Finanza , Parkreditacija , Longo , LatvijasHipoteka , Atrum , LatCredit ,
Facebook:
our page
www.facebook.com/allcredits.lv/