Atrum
FREE CREDITS | FAST CREDITS | CREDITS FROM 18 YEARS | AUTO CREDITS | MORTGAGE CREDITS | CONSUMER | SHORT-TERM | LONG-TERM

The maximum term: 1 year
Age Limit: 20-70 years
Activation cost: 0.01 EUR
Max. amount: 1000 EUR
The processing time: 15 min.
Percent per month: 10%
Atrum – The first Loan up to 425 EUR with Commission 0%.
Make an online application, select the amount and term of the loan for Atrum. Register and fill out the registration form on Atrum. Confirm registration, transfer from your account a registration fee EUR 0,01 to the account of Atrum. Receive a loan, the decision to provide a loan you will receive in the form of SMS within 15 minutes.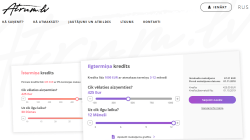 How to return a loan? To pay monthly payments or repay the loan in full, transfer the required amount to one of our accounts. What do I need to specify in the purpose of payment? In the purpose of payment, it is necessary to indicate the contract number and the word "atmaksa". Example: Līguma Nr. AZXXXXXX atmaksa.

Phone: 80700700


Email: info@atrum.lv


Website: atrum
Can I get a loan?
To obtain a loan, you need: to be a permanent resident of Latvia between the ages of 20 and 70; active account in any bank in Latvia; permanent connection of mobile phone; you should not have late payments or debt violations.
What amount of credit is available to me?
For the first time you can get the loan amount up to EUR 425. The second time you will have the loan amount up to EUR 500.
How quickly will I receive a response to my loan application?
You will receive a reply to the credit application within 15 minutes from the moment of the registration completion.
How quickly will I receive money in my bank account?
If your account is in Swedbank, Citadele, DNB banka or Nordea Bank AB, you will receive the money within 10-15 minutes. If your account is in another bank, the transfer of money can take 1-3 days.
Can I get a loan at night or on weekends?
Applications for loans are considered on working days from 8:00 to 22:00, on weekends from 10:00 to 20:00, but you can register and send an application for a loan at any time.

:
2016
AllCredits:
Moneza , Atrais , SaulesKredits , AtraHipoteka , Kredits7 , LatCredit , Parkreditacija , Kredits365 , AutoSOScredit , FinLat , KreditsPlus , LatvijasHipoteka , SohoCredit , Mogo , HercusKarte , FixCredit , VitaCredit , LadyLoan , TFBank , 1Lizings , IespejuKredits , Creditea , Finanza , CarsOutlet , Kimbi , Lande , Monify , CreditON , Longo , OneFinance ,
Facebook:
our page
www.facebook.com/allcredits.lv/