Lande
FREE CREDITS | FAST CREDITS | CREDITS FROM 18 YEARS | AUTO CREDITS | MORTGAGE CREDITS | CONSUMER | SHORT-TERM | LONG-TERM

Amount: 1000౼1000000 EUR
Term: 1౼180 months
Interest: from 9 % per year
Installment: up to 6 months
Processing time: 24 hours
Registration: -
Aizdevumus vienas dienas laikā pret zemes vai meža ķīlu no 5 Ha, saimniecības attīstība, paplašināšana, tehnikas remontam vai izejmateriālu iegādei. Mēs vēlamies palīdzēt vietējiem zemniekiem augt un attīstīties, spējot konkurēt gan Latvijas, gan starptautiskā tirgū, tādēļ katrs mūsu piedāvātais aizdevums lauksaimniecībai ir pielāgots dažādām vajadzībām un iespējām. Tu izvēlies preci, mēs par to pārskaitām naudu pārdevejam un ar mums norēķinies sezonās beigās.
Lande – Loans for agriculture.
Lande – an alternative financial opportunity for farmers and foresters. Operational check within one business day. Lande finances a relatively small farms and farming. In non-standard cases, a loan is also evaluated and granted if the client draws up documents in case of inheritance. Lande – quick loan issuance.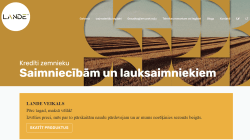 Common objectives of the loan – the expansion of the economy, for the acquisition of raw materials, repair or the acquisition of equipment. Opportunities for repayment – in accordance with the wishes of the client, it is possible to pay only interest with a full repayment of the loan at the end of the contract, or pay interest + principal on a monthly basis. We offer a line of credit.

Phone: 24226200


Email: info@lande.lv


Website: lande
FOR ACQUISITION OF RAW MATERIALS
Lande.lv provides a loan for the purchase of fertilizers, seeds and other raw materials for agriculture. We finance from 1 ha and only legal entities. The ability to pay payments within 12 months.
FOR ACQUISITION OR REPAIR OF EQUIPMENT
Unexpectedly broken equipment or urgently needed financing to acquire new equipment.
FOR ECONOMIC DEVELOPMENT
To expand the economy or acquire additional land or forest. To develop our economy, we offer a loan for the acquisition of land. For example, start paying in a year.
FOR FOREST DEVELOPMENT
We offer responsible and professional cutting work. We also offer money before price increases.

:
1349
AllCredits:
1Lizings , LatCredit , CarsOutlet , SohoCredit , Atrum , Longo , Finanza , CreditON , Monify , HercusKarte , Creditea , AtraHipoteka , FinLat , Kredits7 , SaulesKredits , LadyLoan , TFBank , Atrais , Moneza , LatvijasHipoteka , IespejuKredits , Kredits365 , Kimbi , OneFinance , FixCredit , AutoSOScredit , Parkreditacija , KreditsPlus , VitaCredit , Mogo ,
Facebook:
our page
www.facebook.com/allcredits.lv/