SohoCredit
FREE CREDITS | FAST CREDITS | CREDITS FROM 18 YEARS | AUTO CREDITS | MORTGAGE CREDITS | CONSUMER | SHORT-TERM | LONG-TERM

Amount: 70౼1000 EUR
Term: 4౼24 months
Interest: from 48.46 % APR
Age: 20౼75 years
Processing time: 10 min.
Registration: 0.01 EUR
Piemērs: Kredīta summa 300 EUR, Procenti 25.81 EUR, Kopējā summa, kas jums būs jāmaksā 325.81 EUR, Aizņēmuma likme 40.27 %, GPL 48.57 %, Aizdevuma summas lietošanas termiņš 4 mēneši, Reģistrācijas maksa (tikai pirmajam aizdevumam): EUR 0.01.
SohoCredit – reliable and loyal partner in the microcredit market.
SohoCredit Consumer loans for 10 – 15 minutes – without collateral and sureties. Once you've booked a loan from your profile, SohoCredit will consider your request within a few minutes. On his decision SohoCredit notify you by sending an SMS message to a registered phone number and immediately transfer the credit to your account.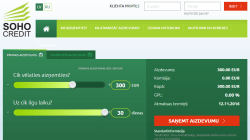 If you have any small unforeseen expenses, payday only approaches offered Soho Credit Loans are provided for just such occasions. If you absolutely need some services or goods, and to ask a small remaining amount from relatives or friends are not comfortable, quick service Soho Credit at your disposal.

Phone: 66116000


sohocredit@sohocredit.com


Website: sohocredit
To whom loan is available in SIA SOHO GROUP?
The loan is available to people: who have declared a permanent residence in the Republic of Latvia; for persons under the age of 20 years; permanent connection mobile phone number; open, in any bank in Latvia, the current account; for persons who have a clean credit history, no delay other credit payments; for people with a regular income, which allows you to repay the loan.
How long will I receive an answer to loan application?
Your application will be reviewed within a few minutes, and the decision will be sent as a message. Experts call center will contact you by phone, in case any questions during the consideration of your application.
How long should I wait until I get the money to my bank account?
In case of a positive response within 10-15 minutes you get the money to your bank account, but only if it is in the bank Swedbank, Nordea, DnB Nordea or Citadele. If your bank account is in another bank transfer can take from one to three days. But bear in mind that the actual speed of the transfer depends on each bank individually.
What to do if I can not pay the loan within the specified period?
In this case, you have the opportunity to extend the period of payment of the loan to 30 calendar days, listing fee renewal for the bank account number SIA "SOHO GROUP".
Why refused to provide the loan?
The loan may be denied in the following situations: you have any other while not made or not made by credit commitments, or delay payments; during registration given erroneous data; no confidence in your ability to pay; not repaid previous loans in SohoCredit.

:
7751
AllCredits:
FixCredit , Atrum , Kredits7 , HercusKarte , Lande , Moneza , IespejuKredits , Atrais , Kredits365 , LatCredit , Monify , Parkreditacija , CreditON , OneFinance , FinLat , Kimbi , Mogo , Longo , Finanza , KreditsPlus , VitaCredit , AutoSOScredit , TFBank , AtraHipoteka , LadyLoan , SaulesKredits , 1Lizings , CarsOutlet , Creditea , LatvijasHipoteka ,
Facebook:
our page
www.facebook.com/allcredits.lv/