HipoCredit

Amount: 2000౼500000 EUR
Term: 6౼240 months
Interest: from 12 % per year
Age: from 20 years
Processing time: 24 hours
Registration: -
Piemērs: aizņemoties 15 000 EUR uz 10 gadiem, fiksētā procentu likme ir 12.5% gadā (izsniegšanas komisija ir 750 EUR). Kopējā atmaksājamā summa ir 26 541.6 EUR. Ikmēneša maksājums 221.18 EUR. Gada procentu likme (GPL) – 14.91%. Maksimālā iespējamā GPL likme ir 35.57%. Aizdevums līdz 75% no nekustamā īpašuma tirgus vērtības. Iespēja maksāt tikai aizdevuma procentus, pamatsummu atgriezt termiņa beigās. Bezmaksas pirmstermiņa aizdevuma dzēšana.
HipoCredit – The loan is up to 90% of the market value of immovable.
HipoCredit a simple and easy process of loan disbursement. Apply for HipoCredit and received an offer for several hours for free! When our partner Latio will assess your property, sign contracts and loan application for a mortgage with a notary in a convenient place for you, and at your convenience! Once your application is approved for a mortgage in the Land Register, to get money from HipoCredit to your account and to execute plans!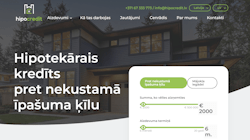 Mortgage loans for: the purchase of housing, improvement of living conditions, the Association of other loans, purchasing a car, the beginning of its business. Proposal for a few hours. The loan is from 2 000 to 100 000 EUR. Payback period of 3 months to 20 years. Evaluation of apartments in major cities free of charge together with the Latio.

Phone: 67333773


Email: info@hipocredit.lv


Website: www.hipocredit.lv
What do I need so I can get a loan from Hipocredit?
You can get a loan from Hipocredit, if you're at least 20 years old and you are resident of Latvia. Hipocredit provides loans secured by real estate, so you must have a regular income, as well as ownership of real estate in Latvia – an apartment or a house.
Why borrow from Hipocredit?
Firstly, you get the original proposal of the loan in just a few hours. Secondly, we will make sure that the paperwork was as easy as possible and more convenient. Third, we will provide a loan of up to 90% of the market value of your property.
How to get a loan from Hipocredit?
This requires only three simple steps: write an application for a loan online Hipocredit and within a few hours you will receive an offer; to obtain an estimate of the real estate from our partner Latio and sign the loan agreement and an agreement on assignment of a mortgage with a notary at a convenient time for you, and in a convenient place for you; when contracts are signed and the mortgage will be approved in the Land Register, you get money into your account.
How long you can receive a loan and get the money?
The money to your bank account you will receive an average of 7-10 days from the date of filing. It depends on two factors: how quickly you'll be able to meet with the appraiser of Latio and for how long the local Land Registry Office to approve a mortgage.
How much can I borrow?
Hipocredit offers to take on the security of real estate up to 90% of the market value of Your property. Credit from 2 000 to 100 000 EUR.

:
5912
AllCredits:
Vivus , Ferratum , ViaSMS , Sefinance , NordLizings , Credit24 , Bino , KSPlatforma , ViaCredit , LatKredits , Finlo , SMScredit , LKCentrs , eLizings , SosCredit , Altero , Creditus , AvaFin , Finea , Ondo , SavaCard , Soso ,
AllCredits app's:
download for Android
GooglePlay
, download for iOS AppStore (soon).
Facebook:
our page
www.facebook.com/allcredits.lv/