Monify
FREE CREDITS | FAST CREDITS | CREDITS FROM 18 YEARS | AUTO CREDITS | MORTGAGE CREDITS | CONSUMER | SHORT-TERM | LONG-TERM

The maximum term: 2 years
Age Limit: -
Activation cost: -
Amount: 1000 – 100000 EUR
The processing time: 1 hour
Percent per month: from 1.9%
Monify – Quick Loans for Business!
To provide the company with quick access to money is the main task of Monify. The maximum time Monify will take to consider a loan for enterprises is 1 hour. Agree, it is much faster than a loan to legal entities in the bank and other sources of business lending. That is why, Monify is chosen in cases where a loan at a lower rate, but with a longer period of issue is not suitable or simply do not have time to wait.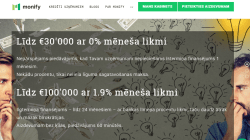 Mission: to re-create and constantly improve and develop worldwide automated online lending services, where each company from the segment of small and medium-sized enterprises in which each segment of the enterprise can receive instant loans using intelligent analytical data and advanced technologies, which will increase its income through fast access to additional funds.

Phone: 66164414


Email: nauda@monify.lv


Website: monify
With the help of a loan, businesses can:
- participate in large purchases
- participate in EU funded projects
- increase the volume of orders
- to continue the work of the enterprise in the event of a short-term shortage of working capital
- earn more
- a great addition to a bank loan
How do we work?
- We get your application for a quick loan for business
- We request your bank statement of the company
- Checking information in open and closed registers
- Evaluate your company's ability to repay a loan
- We send you a loan offer
- We transfer money
- We follow the return process
- We become partners on a long-term basis

:
2776
AllCredits:
VitaCredit , TFBank , Longo , IespejuKredits , CarsOutlet , AtraHipoteka , Atrais , Kredits7 , FixCredit , OneFinance , Kimbi , SaulesKredits , SohoCredit , Parkreditacija , LadyLoan , Atrum , AutoSOScredit , LatvijasHipoteka , Mogo , Creditea , LatCredit , CreditON , FinLat , Moneza , Kredits365 , KreditsPlus , HercusKarte , 1Lizings , Lande , Finanza ,
Facebook:
our page
www.facebook.com/allcredits.lv/