Kredits7
FREE CREDITS | FAST CREDITS | CREDITS FROM 18 YEARS | AUTO CREDITS | MORTGAGE CREDITS | CONSUMER | SHORT-TERM | LONG-TERM

The maximum term: 2 years
Age Limit: 21-65 years
Activation cost: 0.01 EUR
Max. amount: 1500 EUR
The processing time: 10 min.
Percent per month: from 14.9%
Kredits7 – We are for the professional service.
Kredits7 characterizes professionalism, customer care and the provision of new services. During Kredits7 existence it has always been for the professional customer service, as well as for support in situations when there are any problems with the payment of the loan. Our customers really appreciate the opportunity to obtain advice of competent loan officers. When choosing Kredits7 loan, you choose safety and a positive service during the cooperation.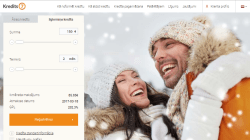 For our customers it is very relevant in the Internet fast loan without collateral. In response to the growth in demand, now and in the future, our customers will be offered only quick loans without collateral or guarantor. We have a very favorable "quick loans" because you do not run the risk of their movable or immovable property. So, specifying information about your monthly income, you guarantee repayment of the loan – it is convenient and easy!

Phone: 28060011


Email: info@kredits365.lv


Website: kredits7
Conditions for obtaining credit in Kredits7
To obtain a loan in Kredits7, you have to meet the following conditions: citizen of the Republic of Latvia; Age from 21 to 65 years old; You must have an account in any bank in Latvia and the active involvement of the mob. phone; Working individual.
Do I need a collateral or a guarantor for a loan?
To obtain a loan collateral or guarantor is not needed.
How long the decision on a loan?
Once the application is received, it is immediately checked by the credit committee, whether approved or rejected. The decision will be sent an SMS-message to the mobile number specified by you. phone. The decision to grant the loan we take a few minutes. In exceptional cases, it may take more time.
How quickly the money transferred to a bank account?
If your account Swedbank, SEB banka, Citadele, the money in your account will be credited within 15 minutes after the examination of the application for the loan. If your bank account is in another bank, then the transfer occurs within one business day of receipt of the application.
How to extend the term of the loan?
You must log in to your User Zone, there will be offered an application for an extension, select the extension of the term of the loan. Payment for renewal. After successful payment, you will receive an SMS with the answer.

:
5749
AllCredits:
Lande , Creditea , LatvijasHipoteka , HercusKarte , IespejuKredits , SohoCredit , CarsOutlet , Monify , Kredits365 , CreditON , Atrum , VitaCredit , AtraHipoteka , AutoSOScredit , TFBank , Kimbi , LatCredit , OneFinance , Longo , KreditsPlus , Parkreditacija , LadyLoan , Moneza , FixCredit , Mogo , Finanza , FinLat , SaulesKredits , Atrais , 1Lizings ,
Facebook:
our page
www.facebook.com/allcredits.lv/