Creditus

The maximum term: 5 years
Age Limit: 18-70 years
Activation cost: 0.01 EUR
Amount: 100 – 5000 EUR
The processing time: 10 min.
Percent per month: from 1.5%
Creditus.LV – Quick credit, which does not need to be extended!
Creditus.lv offers short-term loans (cash loans) and a credit line to individuals without collateral . The loan amount Creditus.lv can be from 100 to 5000 euros, and the repayment period to 60 months. To apply for a loan Creditus.lv, you need a mobile phone, e-mail address and account in any bank of Latvia.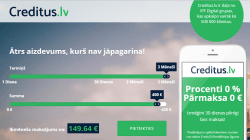 Creditus is part of the IPF Digital group, which serves more than 500,000 customers. Digital IPF Latvia is indirectly owned by International Personal Finance, which is registered in the UK and whose shares are quoted on the London Stock Exchange. In November 2016 received a license from the Consumer Rights Protection Center, which is proof that Creditus is a reliable and responsible lender acting in accordance with the law.

Phone: 8824

Email: info@credit24.lv

Website: www.creditus.lv
Cost-effective
Whichever loan is chosen, the first 30 days will be FREE.
Wise
You can choose a repayment period when the loan has already been received.
Quick
You will receive money within 10 minutes.
Available
You can get a loan from 18 years of age.
Repayment
Individual repayment period for each person from 1 day to 36 months. You can choose a term when you borrow, according to your preferences and options.
Creditus

,