FinLat
FREE CREDITS | FAST CREDITS | CREDITS FROM 18 YEARS | AUTO CREDITS | MORTGAGE CREDITS | CONSUMER | SHORT-TERM | LONG-TERM

The maximum term: 30 years
Age Limit: 18-75 years
Activation cost: -
Amount: 50 – 500000 EUR
The processing time: 30 min.
Percent per year: from 5.7%
FinLat – Convenient Loan Comparison Platform!
FinLat – a convenient platform helps to compare all types of loans absolutely free of charge, as well as helps to get a solution with a high probability of approval, since many credit organizations and banks are connected to the system. In case of a positive decision, the FinLat manager contacts the client and offers the terms of the approved loan. FinLat service for customers is absolutely free.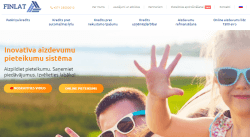 Our main advantage is that our service is absolutely free for the client and we do not charge any commissions. Send one application and in 30 minutes start receiving offers. A convenient system for comparing loans with a high probability of obtaining positive decisions from credit institutions and banks. The ability to compare all types of loans that are in the Latvian market. With us you will save money and your time.

Phone: 25000010


Email: info@finlat.lv


Website: finlat
How long does the customer receive offers?
The first positive decisions can come in 30 minutes.
Can a client sign a contract using a courier or using an electronic signature?
Several partners are ready to sign contracts using a courier and using an electronic signature.
What types of loans can you compare?
We offer to compare consumer loans, corporate loans, loans secured by real estate, quick loans, car loans, refinancing of all types of loans.
Why is our service convenient?
The client does not need to fill out numerous forms and search for sites on the Internet. The client fills out only one application and receives offers.
Does FINLAT charge a client?
No, it does not. The service is absolutely free for the client.

:
2147
AllCredits:
KreditsPlus , LatCredit , LatvijasHipoteka , CarsOutlet , HercusKarte , TFBank , SohoCredit , LadyLoan , Kredits365 , Longo , Lande , Monify , CreditON , AutoSOScredit , AtraHipoteka , IespejuKredits , 1Lizings , Creditea , Finanza , Kimbi , Moneza , VitaCredit , Kredits7 , FixCredit , Parkreditacija , OneFinance , Atrum , SaulesKredits , Mogo , Atrais ,
AllCredits app's:
download for Android
GooglePlay
, download for iOS AppStore (soon).
Facebook:
our page
www.facebook.com/allcredits.lv/