SaulesKredits
FREE CREDITS | FAST CREDITS | CREDITS FROM 18 YEARS | AUTO CREDITS | MORTGAGE CREDITS | CONSUMER | SHORT-TERM | LONG-TERM

The maximum term: 2 years
Age Limit: 21-65 years
Activation cost: -
Amount: 200 – 3000 EUR
The processing time: 1 hour
Percent per month: from 7.25%
SaulesKredits – Positive Life!
SaulesKredits for 5 year provides consumer loans to non-banking sector. Customers appreciate the quality and professionalism SaulesKredits, especially considering that что SaulesKredits is one of the few lenders in the non-banking sector capable of fully enter into the position of the client, even in the most difficult situation.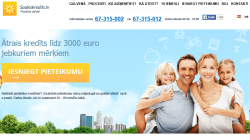 Our goal – to provide customers with the best credit conditions that will best meet the financial possibilities of each client individually. Calculation of the amount of possible loan made strictly in accordance with the recommendations of the Center for Consumer Protection.

Phone: 67315002


Email: info@sauleskredits.lv


Website: sauleskredits
Consumer credit
Consumer credit from sauleskredits – the best solution for you if you plan to shop for the home and office, repair, family holiday, getting medical services, pay utility bills or specialist services, as well as a plan to start their own business, requiring additional initial investment and capital.
Loan against car
Loan against your vehicle – the quickest and easiest solution if you do not have enough official earnings, but has its own vehicle available. The machine can remain in your use of the crediting period. You can quickly get the desired amount during the day.
Credit urgency
Sauleskredits help you solve all the current problems with other creditors. If you have credit commitments, which you want to pay, and focus entirely on a single company, – sauleskredits – you can get a consumer loan specifically for the repayment of your debts to other creditors.
Requirements to borrower
Loans are granted only to persons who have reached 21 years. It requires the official income for the period not less than 6 months. If necessary, the company shall have the right to request additional security in the face of a guarantor working officially as receiving a salary in a bank account. The absence of litigation by creditors or existing processes to recover the debt from the bailiffs. I have an account in any of the commercial banks of the Republic of Latvia. A reasonable estimate of their financial capabilities.
It is important to know
We may deny your loan without any additional comments, even if the other companies regularly give you credits every month again and again. Calculates your expenses for a month in order to avoid problems with payment schedule specified in the payment terms. Fee for registration and issuance of the loan is added to the principal amount of the loan. The amount of commission depends on the loan amount and loan term and calculated individually.

:
5190
AllCredits:
LatvijasHipoteka , CreditON , TFBank , FixCredit , LatCredit , Creditea , Finanza , CarsOutlet , LadyLoan , HercusKarte , Monify , Atrais , Lande , IespejuKredits , Kimbi , Moneza , AutoSOScredit , Mogo , FinLat , Kredits7 , KreditsPlus , Atrum , Kredits365 , VitaCredit , OneFinance , AtraHipoteka , 1Lizings , SohoCredit , Longo , Parkreditacija ,
Facebook:
our page
www.facebook.com/allcredits.lv/