Parkreditacija
FREE CREDITS | FAST CREDITS | CREDITS FROM 18 YEARS | AUTO CREDITS | MORTGAGE CREDITS | CONSUMER | SHORT-TERM | LONG-TERM

Amount: 10000౼2000000 EUR
Term: 1౼24 months
Interest: from 8 %
Loan: up to 75% of property value
Processing time: 2 days
Registration: -
Kredīta izskatīšana novērtēšanai ilgst līdz 2 (divām) darba dienām. Laika periods no īpašuma novērtēšanas līdz aizdevuma izsniegšanai veidojas no nekustamā īpašuma specifikas un investoru ieinteresētības, taču visbiežāk investīciju vākšana notiek 2 (divas) nedēļas.
Parkreditacija – Credit secured by real estate for legal entities.
Financing projects by attracting investors is becoming increasingly popular, as this principle is associated with lower financial risks. A Parkreditacija loan can be a useful tool or even a necessity for providing entrepreneurship and implementing business ideas. If banks offer only partial credit, then Parkreditacija non-bank lending opportunities are exactly what helps to achieve goals and ideas that lead to the desired result. With the help of Parkreditacija investors, the borrower can receive all the necessary amount for the implementation of his project.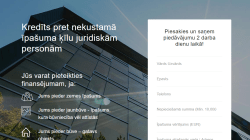 A loan secured by real estate for legal entities. You can apply for financing if: you own land; You own a new building – property, the construction of which is under development; You own a building – a finished object; If you want to buy real estate and make a profit from it. We offer financing for various purposes.

Phone: 24242024


aizdevumi@parkreditacija.lv


Website: parkreditacija
Quick and free viewing
Our goal and operational policy are based on careful and serious work to minimize potential financial risks. Loan options are considered by refinancing specialists who can advise you and clearly explain the nuances. Our customer support service uses an individual and professional approach to building sustainable and mutually beneficial business relationships.
Clear and comfortable environment
Non-bank lending is characterized in that it does not have hidden interest, there is no overpayment for the nuances previously unknown to you. Our specialists explain the conditions and help if in-depth information is required in the conditions of granting or repaying a loan. The re-accreditation activities are focused on an individual approach to each client, so we can set up the most favorable conditions.
Professional approach and team
Our team consists of industry experts who have experience as well as enthusiasm in the field in which they work. We highly value customers and cooperation partners, therefore we base cooperation on the principles of mutual respect. As a result of our experience, we came to the conclusion that such a principle can ensure sustainable and fruitful cooperation. We are characterized by regularity, meeting deadlines, caring for customers, as well as direct communication, so we can be a company in which the client feels safe and confident. In our opinion, the most valuable contribution is a humane and positive attitude, because it builds our reputation.
Financing Security
We provide funds for issuing to the borrower on the principle of co-financing. This principle means that several people can invest in a project for whom your property seems potentially profitable. When the financing is fully received, re-lending guarantees the repayment of the loan to your account. The client and Re-credit agree on a period of time during which funds are collected individually, analyzing the nuances of the object and potential conditions for investment payments.

:
970
AllCredits:
Monify , SohoCredit , FinLat , KreditsPlus , Kredits7 , CreditON , Finanza , FixCredit , Atrum , CarsOutlet , Longo , SaulesKredits , Mogo , VitaCredit , IespejuKredits , Creditea , AutoSOScredit , LatvijasHipoteka , Kredits365 , 1Lizings , HercusKarte , AtraHipoteka , OneFinance , Atrais , TFBank , LatCredit , Lande , Kimbi , Moneza , LadyLoan ,
Facebook:
our page
www.facebook.com/allcredits.lv/