Longo
FREE CREDITS | FAST CREDITS | CREDITS FROM 18 YEARS | AUTO CREDITS | MORTGAGE CREDITS | CONSUMER | SHORT-TERM | LONG-TERM

The maximum term: 7 years
Age Limit: from 20 years
Activation cost: -
Amount: 500 – 15000 EUR
The processing time: 30 min.
Percent per month: from 2.4%
Longo – One step towards your Car!
Longo is part of the international company Longo Group, which is active in the field of used car trade. Longo sets high standards offering a fully transparent and reliable purchase, sale and financing for used cars. Longo values ​​transparency, honesty and professional approach in everyday processes.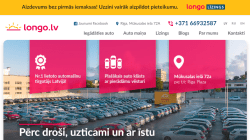 Longo autoplaza – super quick and convenient car shopping. All in one place – buy, sell, exchange, finance and insure your car! We work to give our clients the best! Consult kind and welcoming car-experts regarding your motorized needs, financial options and our offers.

Phone: 66932587


Email: info@longo.lv


Website: longo
About Longo
The whole process, starting with the purchase of a car in the Netherlands, up to its export to Latvia, technical inspection and registration is done inside the company and the team of professionals takes care of it.Our vision is to become the most recognizable and reliable car sales company in the used car trade.
Why Longo?
We believe that the purchase of a pre-owned car should be as save, honest and easy as acquisition of a brand new vehicle.
Longo leasing benefits
- 0% down payment
- Reduced interest rate
- Widest range of cars
- Leasing for the employed abroad
- Leasing from the age of 20
- Application processing in 30 min.

:
1202
AllCredits:
Banknote , Moneza , 1Lizings , SohoCredit , CreditON , Kimbi , Kredits365 , HercusKarte , FinLat , TFBank , Mogo , LadyLoan , LatCredit , OneFinance , Atrais , LatvijasHipoteka , FixCredit , KreditsPlus , Kredits7 , Lande , IespejuKredits , CarsOutlet , Parkreditacija , Monify , Finanza , Atrum , SaulesKredits , Creditea , AutoSOScredit , VitaCredit ,
AllCredits app's:
download for Android
GooglePlay
, download for iOS AppStore (soon).
Facebook:
our page
www.facebook.com/allcredits.lv/