Kredits365
FREE CREDITS | FAST CREDITS | CREDITS FROM 18 YEARS | AUTO CREDITS | MORTGAGE CREDITS | CONSUMER | SHORT-TERM | LONG-TERM

The maximum term: 2 years
Age Limit: 21-65 years
Activation cost: 0.01 EUR
Max. amount: 1500 EUR
The processing time: 15 min.
Percent per month: no 9.2%
Kredits365 – Fast loan online without bail and surety!
Once the application is received, it is immediately verified by the credit committee Kredits365. The decision will be sent an SMS-message to the number you specified mobile phone. The decision to grant a loan Kredits365 takes a few minutes. To enforce the agreement of the rapid credit, as well as to assess your creditworthiness, Kredits365 must obtain from you certain personal data.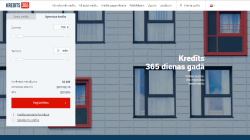 Our business motto is: fast, high quality and responsible customer service. We provide an individual approach to each client, because we are focused on long-term and good cooperation. We offer short-term loans for 15 minutes, with an accessible overview of conditions, without the need for collateral or guarantees, as well as do not require a certificate of employment.

Phone: 28006636


Email: info@kredits365.lv


Website: kredits365
Conditions for obtaining credit in Kredits365
To obtain a loan in Kredits365, you have to meet the following conditions: citizen of the Republic of Latvia; Age from 21 to 65 years old; You must have an account in any bank in Latvia and the active involvement of the mob. phone; Working individual.
How long the decision on a loan?
Once the application is received, it is immediately checked by the credit committee, whether approved or rejected. The decision will be sent an SMS-message to the mobile number specified by you. phone. The decision to grant the loan we take a few minutes. In exceptional cases, it may take more time.
How quickly the money transferred to a bank account?
If your account Swedbank, SEB banka, Citadele, the money in your account will be credited within 15 minutes after the examination of the application for the loan. If your bank account is in another bank, then the transfer occurs within one business day of receipt of the application.
How much can I borrow?
It all depends on your income, expenses and other liabilities (if any).
Why denied credit?
If you are in the Register of debtors; Do not repaid their previous loans Kredits365; When you register you entered wrong data; If you are younger than 21 or older than 65 years. Kredits365 evaluates each client individually and offer worth less without explanation. Kredits365 may refuse to grant credit and reserves the right in some cases, do not explain the reason for the refusal.

:
6246
AllCredits:
SaulesKredits , HercusKarte , Monify , CarsOutlet , 1Lizings , IespejuKredits , Longo , CreditON , Kimbi , LatvijasHipoteka , AtraHipoteka , OneFinance , SohoCredit , TFBank , Moneza , Atrum , Lande , FinLat , LadyLoan , Finanza , Creditea , Kredits7 , LatCredit , AutoSOScredit , VitaCredit , Parkreditacija , Mogo , KreditsPlus , Atrais , FixCredit ,
Facebook:
our page
www.facebook.com/allcredits.lv/