FixCredit
FREE CREDITS | FAST CREDITS | CREDITS FROM 18 YEARS | AUTO CREDITS | MORTGAGE CREDITS | CONSUMER | SHORT-TERM | LONG-TERM

The maximum term: 40 years
Age Limit: 18-70 years
Activation cost: -
Maximum amount: 150000 EUR
The processing time: 15 min
Percent per year: from 1.5%
FixCredit – Our wishes – the realization of your dreams!
Consumer loan FixCredit can be used in a variety of ways – goods for home or buying a car, pocket money for travel, wedding organization. Auto Leasing FixCredit gives you the opportunity to purchase a car or lay the current one to get money for daily expenses . With the help of a mortgage FixCredit you can buy real estate, or get money to achieve your goals on the security of available property.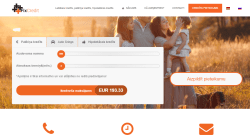 The company FixCredit.lv successfully works in the sphere of financial services in Latvia. The main objective of our company is to provide professional advice on lending, in order to minimize the time spent, as well as to exclude overpayment of the loan.

Phone: 26422979


Email: info@fixcredit.lv


Website: fixcredit
Fill in the application
In order to apply, fill out a credit profile on the site or contact us by phone.
Get an offer
Our credit specialist will evaluate your application and will send you an individual loan offer from 15 minutes to 24 hours.
Sign the contract
If the loan proposal sent will suit you, we will agree on signing a loan agreement in our office, at the address indicated by you or electronically using an electronic signature.
Get money
In case of successful cooperation, you will receive money to your account within 20 minutes after signing the loan agreement and will be able to start using it for the intended purpose.

:
1900
AllCredits:
SohoCredit , Lande , FinLat , SaulesKredits , Moneza , Mogo , Atrum , Longo , VitaCredit , Atrais , Kredits7 , LadyLoan , TFBank , OneFinance , CreditON , AtraHipoteka , LatCredit , Kimbi , LatvijasHipoteka , KreditsPlus , Parkreditacija , IespejuKredits , Finanza , HercusKarte , 1Lizings , Kredits365 , AutoSOScredit , Creditea , Monify , CarsOutlet ,
Facebook:
our page
www.facebook.com/allcredits.lv/