1Lizings
FREE CREDITS | FAST CREDITS | CREDITS FROM 18 YEARS | AUTO CREDITS | MORTGAGE CREDITS | CONSUMER | SHORT-TERM | LONG-TERM

The maximum term: 6 years
Age Limit: 21-70 years
Activation cost: -
Max. amount: 25000 EUR
The processing time: 1 hour
Percent per year: from 3%
1Lizings – AutoLeasing and AutoCredit!
A car loan is easily available and convenient – you can apply for it on 1Lizings website, and come to the nearest 1Lizings credit center and apply for a loan at the office. If you fill out an application on the Internet, you will be contacted by a loan officer who will clarify all issues related to car loans or request additional documents that must be submitted for processing a loan in 1Lizings.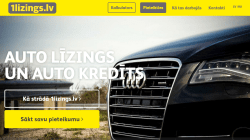 Do you want to change the old car to a newer one? How long have you been dreaming of a motorcycle, but always postponing its acquisition? 1Lizings gives such an opportunity to achieve the desired quickly and without a down payment! If you are thinking about buying a new car and you need a loan, 1Lizings would be the most suitable solution to the problem.

Phone: 27787787


Email: info@1lizings.lv


Website: 1lizings
OPERATIONAL AUTO LEASING
This is the simplest form of financing a car. Instead of your company, you purchase a car of your choice, in turn, you make rental payments every month within the period specified in the contract. At the end of the lease term, you will have the opportunity to purchase the car – the redemption price of the car will be determined before entering into a lease agreement.
FINANCIAL AUTO LEASING
The conditions of financial car leasing are similar to operational car leasing, except that you agree to buy a car from the very beginning. It automatically becomes your property when the entire loan is paid.
CAR LEADING WITH BAD CREDIT HISTORY
If you are on the list of collectors because of a small debt, then you still have the opportunity to get car leasing if there are regular monthly incomes, as in this case the car serves as security. The best way to find out if you can get car leasing from us is to start the application process. Submitting an application does not mean that you undertake any obligations. We will find out if this is possible and agree with you on whether you can afford it so that you will not have problems in the future. You should not be afraid to tell us about your financial situation. Many of our clients have been struggling with debts, and our team is here to help you, not condemn. They are well aware that people may have monetary problems for a variety of reasons.

:
2582
AllCredits:
KreditsPlus , VitaCredit , Creditea , FinLat , HercusKarte , LatvijasHipoteka , Longo , LatCredit , SaulesKredits , Kredits7 , Kimbi , FixCredit , Mogo , SohoCredit , Atrum , Finanza , Monify , TFBank , Kredits365 , CreditON , Moneza , Parkreditacija , Lande , LadyLoan , OneFinance , AtraHipoteka , CarsOutlet , AutoSOScredit , Atrais , IespejuKredits ,
Facebook:
our page
www.facebook.com/allcredits.lv/