LatCredit
FREE CREDITS | FAST CREDITS | CREDITS FROM 18 YEARS | AUTO CREDITS | MORTGAGE CREDITS | CONSUMER | SHORT-TERM | LONG-TERM

The maximum term: 3 years
Age Limit: 20-70 years
Activation cost: 0.01 EUR
Amount: 100 – 1000 EUR
The processing time: 15 min.
Percent per month: from 3.5%
LatCredit – credit for 15 minutes without bail, fast, convenient.
To get a loan you need to register and fill out the registration form LatCredit – it will take less than one minute. When registering for the LatCredit , you need only specify the name, address, identity number, mobile phone number and information about the job. To get a loan from LatCredit, You must meet certain criteria.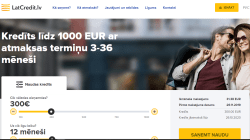 The loan can be ordered conveniently in your personal profile of the client. Login to your profile, you can specify your e-mail and password specified during registration. We consider your request within a few minutes. About his decision, we will let you know by sending an SMS message to a registered phone number and immediately transfer the credit to your account.

Phone: 66100090


Email: latcredit@latcredit.lv


Website: LatCredit
Can I get a loan?
The loan is available to people: who have declared a permanent residence in the Republic of Latvia; aged 20 to 70 years; permanent connection mobile phone number; open, in any bank in Latvia, the current account; for persons who have a clean credit history, no delay other loan payments.
How much can I borrow?
For the first time, you can take a loan in the amount of 425 EUR. The second time, you can take a loan in the amount of 750 EUR. The third time, you can take a loan in the amount of 1000 EUR.
How quickly will I get an answer on a credit application?
The answer will receive a message within 15 min. after completion of registration.
How fast will I get the money to my bank account?
If you account is in Swedbank, SEB bank, DNB bank, Citadele, then for 10-15 minutes. If your bank account is in another bank transfer can take from one to three days.
Why I refused to grant the loan?
The loan may be denied in the following situations: Do you have any other at the time of loan commitments are not made or delayed payments; during registration given erroneous data; not repaid previous loans in Latcredit.

:
6822
AllCredits:
IespejuKredits , FinLat , OneFinance , AutoSOScredit , CarsOutlet , Moneza , Kredits7 , Kimbi , FixCredit , TFBank , Creditea , Atrum , Mogo , LatvijasHipoteka , Lande , Kredits365 , SohoCredit , Atrais , AtraHipoteka , CreditON , Longo , VitaCredit , HercusKarte , KreditsPlus , SaulesKredits , Finanza , Monify , Parkreditacija , 1Lizings , LadyLoan ,
Facebook:
our page
www.facebook.com/allcredits.lv/