OneFinance
FREE CREDITS | FAST CREDITS | CREDITS FROM 18 YEARS | AUTO CREDITS | MORTGAGE CREDITS | CONSUMER | SHORT-TERM | LONG-TERM

The maximum term: 6 years
Age Limit: 21-70 years
Activation cost: -
Max. amount: 25000 EUR
The processing time: 1 hour
Percent per year: from 3%
OneFinance – Occupy when Necessary!
OneFinance successfully works in the provision of financial services for residents of Latvia. OneFinance has the following services in a wide range of credit services: cash loan, cash loan for workers abroad, car leasing, cash loan for buying a car, loan consolidation. Credit services offered by OneFinance are constantly updated with new ones in order to provide their clients with loans that are most relevant to their tasks.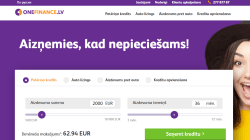 We provide our customers with the highest quality of service and always offer solutions for any client's tasks. The rate of our annual interest is lower than that of most credit institutions, and we are similar to a bank that specializes in providing affordable and fast services. We offer services to all residents of Latvia, without exception.

Phone: 27787787


Email: info@onefinance.lv


Website: onefinance
Can I get a loan without being a citizen of Latvia?
Yes, but you need to be a permanent resident of the Republic of Latvia aged from 21 to 70 years old, who has been assigned a Latvian personal code and who has no overdue payments or debt obligations.
How fast can I get a loan?
Money transfer within one bank will take no more than 5 minutes. Interbank transfers are made within 1 business day: if the application was approved on a working day before 4:00 pm, the money will be received on the same day, if after 4:00 pm or on weekends, then the next working day.
Can I get my loan back faster?
Yes. You have the right to repay the loan faster, since you are obliged to pay interest only for the time until you have fully fulfilled your credit obligations, according to the loan agreement.
Can I get a loan with a damaged credit history?
ONEfinance.lv cooperates with various lenders. Each of them has its own credit policy. By filling out the application in ONEfinance.lv, you will have the opportunity to find out what are your chances of getting a loan at the moment, taking into account the situation with your credit history. Filling out an application does not impose any obligations on you, and this service is provided free of charge.
When can I get a rejection?
The most frequent reasons for refusal of a loan is a negative response from the register of debtors on the borrower's credit history or insufficient income to cover all existing obligations.

:
1542
AllCredits:
AtraHipoteka , VitaCredit , TFBank , Kredits7 , KreditsPlus , CreditON , SaulesKredits , Kimbi , Atrais , Finanza , IespejuKredits , FixCredit , SohoCredit , HercusKarte , LadyLoan , CarsOutlet , Longo , Monify , FinLat , Moneza , Kredits365 , AutoSOScredit , 1Lizings , Mogo , LatCredit , Atrum , Parkreditacija , Creditea ,
AllCredits app's:
download for Android
GooglePlay
, download for iOS AppStore (soon).
Facebook:
our page
www.facebook.com/allcredits.lv/