Kimbi
FREE CREDITS | FAST CREDITS | CREDITS FROM 18 YEARS | AUTO CREDITS | MORTGAGE CREDITS | CONSUMER | SHORT-TERM | LONG-TERM
The maximum term: 5 years
Age Limit: 20-75 years
Activation cost: 0.01 EUR
Max. amount: 1500 EUR
The processing time: 10 min.
Percent per month: 10%
Kimbi – Additional Funds are Always at Hand!
Kimbi credit line is a new product – it's like a bank account, from which you can request funds within the credit limit when you need be. Kimbi clients themselves can choose the loan payment process – to pay the minimum monthly payments or pay the full amount immediately. Kimbi focused on long-term and mutually beneficial cooperation with each client.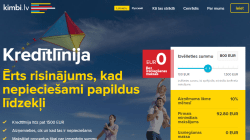 After the registration of the credit line granted for an unlimited period. To do this, there is no need to pledge any surety. You do not have to pay for the examination of applications, account maintenance and user profile, as well as transfers of funds. You will need to pay only the interest for the period of actual use of the amount provided under the Credit Line.

Phone: 67799090


Email: info@kimbi.lv


Website: kimbi
What do I need to get a credit line?
To obtain a credit line, you have to be a permanent resident of Latvia aged 20 to 75 years, you can not have late payments on the loan or the outstanding debt obligations, should be able to pay the loan, you need a current account in one of the Latvian banks, as well as the active involvement mobile phone.
How to order a credit line?
Fill out the form by entering personal information. Identified by the bank. Select the amount of Credit Line to pay and start to use the credit line.
How quickly will I get the money to my bank account?
If it is decided to grant you a loan, and your checking account is in Swedbank, Citadele, Nordea, DNB or Norvik, the money in your bank account you will receive within 10 minutes (98% of cases) after receipt and approval of your request the amount of the payment to working Kimbi.lv time.
How much can I borrow?
The maximum size of Credit Line – 1500 EUR, as part of its credit limit, you will be able to borrow as much as you need, at the right time for you.
What will be the cost of using the service?
Consideration of an application for a credit line, its issuance, payment of sums of money requested and account maintenance there free of charge. Monthly interest rate – 10% of the paid sum of money. Interest is calculated only for those days that you will take the credit. Remember! If you do not use available under Credit Line amount to pay do not need anything for it.

:
4444
AllCredits:
1Lizings , CreditON , SohoCredit , Mogo , SaulesKredits , KreditsPlus , Lande , Kredits365 , VitaCredit , IespejuKredits , Finanza , LatCredit , OneFinance , Moneza , Atrais , Creditea , Atrum , LadyLoan , HercusKarte , TFBank , Longo , LatvijasHipoteka , Kredits7 , Monify , Parkreditacija , FixCredit , AutoSOScredit , FinLat , AtraHipoteka , CarsOutlet ,
Facebook:
our page
www.facebook.com/allcredits.lv/