CreditON
FREE CREDITS | FAST CREDITS | CREDITS FROM 18 YEARS | AUTO CREDITS | MORTGAGE CREDITS | CONSUMER | SHORT-TERM | LONG-TERM

The maximum term: 5 years
Age Limit: 20-75 years
Activation cost: 0.01 EUR
Maximum amount: 50 – 4000 EUR
The processing time: 15 min.
Percent per month: from 3.5%
CreditON – Calculate your benefits!
CreditON this is not just another mystical on-line provider of cash loans, credit policy which is not explained. Conversely, CreditON – is an innovative service representative rapid lending. This is evidenced by a number of factors – innovation for loans on the Internet, the proposed CreditON; clear and robust policy of providing short-term cash loans.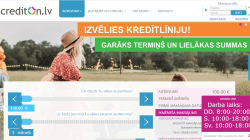 We are a true partner to its customers – and we do not sum up the help that you have all turned out! We understand their customers and find a solution for everyone – you will have the opportunity to choose the loan amount and the term of repayment. We can reduce the cost of credit – we thank you for the responsibility and loyalty to the great bargains and deals.

Phone: 27250001


Email: info@crediton.lv


Website: crediton
Conditions for the loan
To obtain a loan CreditOn, you must be: a resident of Latvia (citizen or non-citizen with personal code); aged 20 to 75 years; the owner of an active account in any bank in Latvia; must have a valid mobile connection to any of the Latvian network.
Do we need a pledge or guarantee for the loan?
No, no bail, no guarantee is not necessary. However, if you podaёsh application in excess of 427 EUR, we can ask for a printout of your bank account.
Get a loan
After successful registration, your application will be processed within 15 minutes. The decision to grant the loan you'll be able to SMS to a specified phone number when registering. In case if you need to confirm any of these data Thee, our operators will contact with you. In the future, all related to the credit information you can see in your customer profile!
How to extend term of payment?
We understand that sometimes there are unforeseen expenses that may affect the ability to pay the loan on time. If you realize that pay on time does not work, we offer the opportunity to extend the maturity of the credit for 1-30 days. You can do this in your customer profile.

:
7246
AllCredits:
Finanza , Moneza , HercusKarte , LatCredit , AutoSOScredit , SaulesKredits , VitaCredit , LatvijasHipoteka , CarsOutlet , Kredits7 , OneFinance , Atrais , SohoCredit , Kredits365 , Lande , LadyLoan , Kimbi , Monify , FixCredit , KreditsPlus , Atrum , Parkreditacija , FinLat , Mogo , TFBank , IespejuKredits , AtraHipoteka , Longo , 1Lizings , Creditea ,
Facebook:
our page
www.facebook.com/allcredits.lv/