IespejuKredits
FREE CREDITS | FAST CREDITS | CREDITS FROM 18 YEARS | AUTO CREDITS | MORTGAGE CREDITS | CONSUMER | SHORT-TERM | LONG-TERM

The maximum term: 5 years
Age Limit: 20-70 years
Activation cost: 4.00 EUR
Max. amount: 5000 EUR
The processing time: 1 day
Percent per month: 3,5%
IespejuKredits – Funding for New Opportunities!
IespejuKredits offers some of the lowest interest rates in the market. Its customers IespejuKredits offers contract free shipping to anywhere in the agreement Latvia. Delivery provided by the company DPD. Customers who have an electronic signature (e-paraksts) have the opportunity to sign a contract with the help of her. IespejuKredits working on weekends and offers its customers the opportunity to get the money even after hours.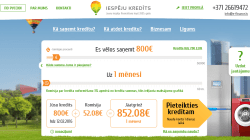 We do not conceal from you their interest rates and penalties in case of delay of the loan. Each client before your application has access to all information related to the terms of the loan. Customer surveys show that 4 out of 4 customers would recommend us to their friends, relatives and acquaintances.

Phone: 26619472


Email: info@e-finance.lv


Website: iespejukredits
What is the one-time registration payment?
One-time registration payment is – 4.00 EUR. It is necessary, in order that we can check the appliances of your bank account to your personality and to check your credit history. Payments you confirm that you agree with the catch of the contract.
What to do after the payment of registration?
Once your payment is received, we will perform a check of credit history. You need to send us the bank account turnover during the last 6 months of revenues and expenditures of that confirms your solvency. If you are using Internet Bank Swedbank, account turnover in the format you want to save ePechat. The decision to grant or refuse a loan, we will send you by e-mail throughout the day.
What will be the total amount that will need to be returned to me?
Total loan payment consists of principal amount of the loan, the fee for the use of the loan and one-time registration fee of 4.00 EUR.
Is it possible to return the loan ahead of schedule?
You have the ability to pay the loan ahead of schedule, saving on interest. The amount of payment per month is composed of the principal and interest. If you give a loan early, you will not pay interest for the remaining months.
What if there were problems paying the loan on time?
You can write an application for vacation credit for the period of 3 months. At this time you will have to pay only the interest. Payback correspondingly increase.

:
5151
AllCredits:
AutoSOScredit , Longo , CreditON , LatCredit , FinLat , KreditsPlus , AtraHipoteka , Atrais , Kredits7 , FixCredit , Parkreditacija , Mogo , Creditea , OneFinance , Kredits365 , Kimbi , LadyLoan , VitaCredit , Moneza , Lande , SaulesKredits , 1Lizings , HercusKarte , CarsOutlet , TFBank , Finanza , Monify , LatvijasHipoteka , SohoCredit , Atrum ,
Facebook:
our page
www.facebook.com/allcredits.lv/