VitaCredit
FREE CREDITS | FAST CREDITS | CREDITS FROM 18 YEARS | AUTO CREDITS | MORTGAGE CREDITS | CONSUMER | SHORT-TERM | LONG-TERM

The maximum term: 20 years
Age Limit: 18-65 years
Activation cost: -
Max. amount: 140000 EUR
The processing time: 2 hours
Percent per month: from 1.25%
VitaCredit – Credits on real estate and car leasing!
Consideration of the application VitaCredit occurs within two hours. After a positive response, consultant VitaCredit will contact you and make an appointment at a convenient time for you. VitaCredit specialists developed a flexible system of payment of monthly payments. You only need to choose the most convenient for you. Possible early repayment without penalty.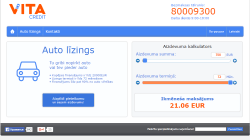 Application for car leasing can be submitted on the website vitacredit. Leasing for the purchase of a car is available for all residents of Latvia who have regular and provable income or guarantor who has income, as well as a driver's license. Age of the recipient of the loan from 18 to 65 years.

Phone: 80009300


Email: ni@vitacredit.lv


Website: vitacredit
How is the clearance of the leasing?
1. You can apply:
  - Fill online – a request on the website of «Vita Credit»
2. After consideration of the application you will be contacted by our specialist in leasing:
  - Confirm leasing
  - Calculate the amount of financing and monthly payment
  - Agree with you at the meeting to sign the contract and inspection of the car.
3. Execution of the Contract:
  - When meeting a contract for.
  - Paid by the Commission for registration (it is also possible to join the commission in the amount of funding)
  - You go to CSDD, to rewrite the car on the SIA "Vita Credit" (you will be entered in the vehicle inspection certificate as the holder of the vehicle).
  - If necessary, with the help of our brokers you arrange insurance KASKO at the best prices.
  - Once your account is transferred to the desired amount of financing.
4. Additional costs:
  - Commission for registration (only if the commission is not included in the amount of funding)
  - Costs associated with the registration of a vehicle in CSDD
  - KASKO
Do I need to certificate with the work or income for the registration of the leasing?
Yes, you need a certificate from VSAA or printing bank account for the last 6 months. If the amount of funding privyshaet 100 minimum monthly salaries (20 000LVL / 28457.44EUR), require an income statement with the SRS.
How long will it take to process the leasing?
Making the leasing takes several hours.
Is it possible to prepay leasing?
Yes, possible.
The company Vita Credit finances only private individuals?
No, our company also finances and legal entities.

:
8648
AllCredits:
Creditea , Finanza , Kredits365 , Atrais , FixCredit , Kimbi , Moneza , Parkreditacija , AtraHipoteka , 1Lizings , SaulesKredits , LatCredit , Monify , CarsOutlet , KreditsPlus , Lande , OneFinance , FinLat , Longo , TFBank , SohoCredit , HercusKarte , CreditON , AutoSOScredit , IespejuKredits , Mogo , Kredits7 , Atrum , LatvijasHipoteka , LadyLoan ,
Facebook:
our page
www.facebook.com/allcredits.lv/