AutoSOScredit
FREE CREDITS | FAST CREDITS | CREDITS FROM 18 YEARS | AUTO CREDITS | MORTGAGE CREDITS | CONSUMER | SHORT-TERM | LONG-TERM

The maximum term: 2 years
Age Limit: from 21 years
Activation cost: -
Amount: 200 – 3000 EUR
The processing time: 1 day
Percent per month: from 7.25%
AutoSOScredit – Loan against car!
AutoSOScredit for several years offering loans secured by your vehicle. Throughout the time of the non-bank lending services AutoSOScredit it uses only an individual approach to each client. The purpose AutoSOScredit it uses only an individual approach to each client. The purpose AutoSOScredit to provide the best conditions for customers, who will fully satisfy the needs and requirements, and best meet the financial possibilities of each client individually.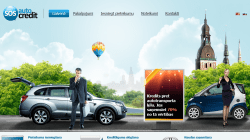 Our customers always receive the best service, the most favorable terms available to date. We always meet our customers, no matter in whatever difficult situation they are. Only we can offer you the best conditions for both individuals and legal entities.

Phone: 67315002


Email: info@autososcredit.lv


Website: autososcredit
Filing an application
You need to fill out a form, then you will receive a response within one business day.
Conclusion of Contract
Registration of all documents takes no longer than 60 minutes. We value your precious time.
Receiving the money
The loan is transferred to your account after the registration of the commercial pledge. Datasheet not changed since You remain the owner of the vehicle. Vehicles is at your use. You can not sell your vehicle is not removed the commercial pledge. Vehicles can not travel outside Latvia.
Mandatory requirements for the vehicle
The vehicle shall not be seized or any prohibition from third parties, as well as, before signing the contract, you must pre-pay all fines, which are in the vehicle. Otherwise, the registration of the commercial pledge is denied and we can bill you, including all of our costs. Does your vehicle technical inspection must be valid for at least 2 months at the date of filing.
Additional expenses
The total additional costs for the registration of commercial pledge, including the state fee, a fee of CSDD, as well as a mandatory duty paid on the spot in the Register of Enterprises is 70,00 EUR. Typically, this amount is deducted from the loan amount.

:
5511
AllCredits:
Moneza , CreditON , SohoCredit , VitaCredit , IespejuKredits , Monify , SaulesKredits , Lande , LatvijasHipoteka , Parkreditacija , Atrum , LadyLoan , AtraHipoteka , Longo , Finanza , FixCredit , KreditsPlus , 1Lizings , FinLat , Creditea , CarsOutlet , TFBank , LatCredit , Mogo , OneFinance , Kimbi , Kredits7 , Kredits365 , Atrais , HercusKarte ,
Facebook:
our page
www.facebook.com/allcredits.lv/