KreditsPlus
FREE CREDITS | FAST CREDITS | CREDITS FROM 18 YEARS | AUTO CREDITS | MORTGAGE CREDITS | CONSUMER | SHORT-TERM | LONG-TERM

The maximum term: 1 year
Age Limit: 21-65 years
Activation cost: 0.01 EUR
Max. amount: 2000 EUR
The processing time: 15 min.
Percent per month: from 8.3%
KreditsPlus.LV – Credit Line!
KreditsPlus issues a loan within the limits of the granted credit limit on the basis of the request of the borrower and taking into account the ability of the borrower to repay the loan. The credit of KreditsPlus is transferred to your current account specified in the client's profile within 24 hours from the date of the credit limit. The client can return the received credit KreditsPlus at any time and in unlimited volume.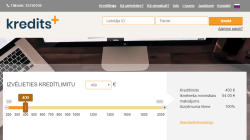 The credit limit is given individually and can be changed during the term of the contract. The borrower has the right to repay the loan in full or in part before the expiration of the period indicated in the invoice, proportionally reducing the payment of interest. After the early repayment, the borrower is entitled to receive a loan again within the limits of the granted credit limit.

Phone: 25150104


Email: info@kreditsplus.lv


Website: kreditsplus
What is the difference between a credit line and other loans?
A credit line is a good solution if you need money for urgent large purchases. This is a type of indefinite loan, which you can use immediately or gradually – in parts.
Can I repay the loan before the due date?
Yes, you can pay the credit line ahead of schedule.
Is it possible to increase the loan amount?
An additional loan amount can be requested if the amount of the credit limit has not been used before. The minimum amount that can be obtained is 50 €.
How quickly money is transferred to a bank account?
If your account is with SEB bank, Citadele, money will be credited to your account within 15 minutes, after checking the application for a loan. If your bank account is in another bank, then the transfer takes place within one working day from the receipt of the application.
Is a collateral or guarantor required to receive a credit line?
No, to get a loan there is no need for either a pledge or a surety!

:
2819
AllCredits:
FixCredit , OneFinance , Kredits7 , Moneza , AutoSOScredit , 1Lizings , Mogo , SaulesKredits , SohoCredit , TFBank , HercusKarte , FinLat , Atrum , Creditea , Longo , LadyLoan , Kredits365 , Finanza , Kimbi , AtraHipoteka , Atrais , VitaCredit , CreditON , CarsOutlet , Monify , Parkreditacija , Lande , LatCredit , IespejuKredits , LatvijasHipoteka ,
Facebook:
our page
www.facebook.com/allcredits.lv/