ViaCredit

Amount: 300౼3000 EUR
Term: 6౼12 months
Interest: 50.46౼53.4 % APR
Age: 20౼70 years
Processing time: 10 min.
Registration: 0.01 EUR
Piemērs: 500 EUR aizdevumam uz 6 mēnešiem ar standarta tarifu gada procentu likme (GPL) būs 50.21%, aizņēmuma likme gadā 25.55%. Pēc reģistrācijas aizņēmējam nepieciešams pārskaitīt 0.01 EUR no sava personīgā bankas konta.
ViaCredit – Quick loan via the Internet!
There are various situations in which financial assistance will be very helpful. To help customers fully, ViaCredit offers various types of loans. Loans ViaCredit in the amount and timing of return. Choose a more suitable form of loan and apply through the Internet on website ViaCredit. The amount of money in your bank account will be in a few minutes!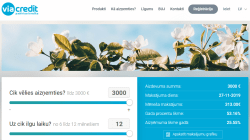 To get the loan, you must meet a few requirements – be a resident of Latvia aged 20 to 70 years, have a regular income to repay the loan and have no late payments on other loans or violations of debentures.

Phone: 67212412


Email: info@viasms.lv


Website: www.viacredit.lv
What requirements must comply with the client to get a loan?
The borrower must comply with at least the following requirements: be a citizen of the Republic of Latvia, or a permanent resident of an indefinite residence permit entitling them to legally live and work in Latvia; be between 20 and 70 years; have a regular income to repay the loan; have no late payments on other loans or other overdue obligations.
How estimated my creditworthiness?
To assess the creditworthiness of the client, we use the database of the State Social Insurance Agency (VSAA), additional information is obtained from the companies that process the data delays on payments of physical persons in the Republic of Latvia, as we consider the database "VIA SMS" with the generalized information about customers.
How long to wait for a decision on a loan?
You will receive an SMS message with the decision on your mobile phone as soon as the credit committee will take a decision on your loan.
What documents are and where should I provide to obtain a loan?
You do not need any documents. You just have to meet our requirements, have a mobile phone and account to any Latvian bank.
Can I extend the current term of payment of the loan?
If you can not pay the loan agreement in the current period, you have the opportunity to defer payment for a month, paying for it is a commission fee. The amount of the payment of the commission can see in your profile client.

:
5155