TFBank
FREE CREDITS | FAST CREDITS | CREDITS FROM 18 YEARS | AUTO CREDITS | MORTGAGE CREDITS | CONSUMER | SHORT-TERM | LONG-TERM

The maximum term: 7 years
Age Limit: 22-70 years
Activation cost: -
Maximum amount: 15000 EUR
The processing time: 24 hours
Percent per year: 19.90%
TFBank.LV – Reasonable Loans for Reasonable People.
The business model of TFBank is based on responsible lending; The loan decision is made after a careful analysis of both internal and external sources of information. The goals of TFBank are to provide non-burdensome, simple and flexible loans; The terms of the loan are reasonable, and the terms of payment are clear. TFBank provides two types of consumer loans.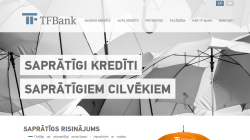 TF Bank was founded in Sweden in 1987 with the aim of providing an opportunity to pay customers who bought goods from mail catalogs. After a while, the TF Bank group significantly expanded its range of services and its geography. In Latvia, TF Bank provides consumer lending services in the fall of 2016.

Phone: 66090800


Email: info@tfbank.lv


Website: tfbank
CAN I RECEIVE CREDIT IN TF BANK?
The loan in TF Bank is available to all residents of Latvia between the ages of 22 and 70 who have permanent and confirmed income. A loan to TF Bank is not available to individuals with a bad credit history, clients who do not live in Latvia and receive income from abroad, to foreign citizens without a permanent residence permit in Latvia. The credit history and solvency of each client is assessed individually, so we suggest devoting a few minutes and filling out an application to see if TF Bank can offer a solution for your financial needs.
HOW TO APPLY FOR A CREDIT?
Here, on our home page, apply for a Cash or Auto loan. Immediately after you apply, you will know the preliminary loan decision. If the preliminary decision is positive, we will ask You to send a printout of your bank account for the last 6 months so that we can make a final decision. If after reviewing the printout of the bank account there is no reason to change the positive decision, then immediately we will offer you a loan agreement.
WHEN WILL I GET MONEY?
The loan is generally paid within one working day after the signing of the loan agreement.
WHAT AMOUNT AM I WILL PAY MONTHLY?
Since this is an annuity payment schedule, then every month you will pay the same amount. Part of this amount is interest for the loan and the other part is to reduce the balance of the loan. At the beginning of the payment schedule, part of the interest is greater, at the end of the schedule the percentage share in the monthly payment decreases. You can calculate the approximate amount of the monthly payment before applying with the help of a loan calculator, which you can find on our website.
HOW DOES THE CREDIT PAY?
The money is transferred to your current account, which you indicated in the application for a loan and which is also entered in the loan agreement. Money is paid only to the borrower's personal account.

:
3580
AllCredits:
KreditsPlus , CarsOutlet , LadyLoan , OneFinance , Kredits365 , Parkreditacija , LatvijasHipoteka , SaulesKredits , VitaCredit , FinLat , CreditON , AtraHipoteka , HercusKarte , Finanza , LatCredit , Longo , Mogo , Atrais , SohoCredit , Kimbi , FixCredit , IespejuKredits , AutoSOScredit , Moneza , Atrum , 1Lizings , Monify , Lande , Creditea , Kredits7 ,
Facebook:
our page
www.facebook.com/allcredits.lv/